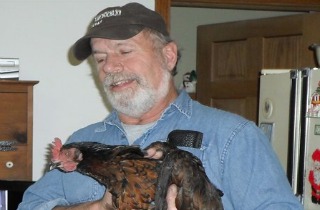 A Wisconsin couple is crediting their pet chicken, Cluck Cluck, with saving their lives this week, as she alerted them to a fire in their home.
Dennis Murawska said Cluck Cluck woke his wife Susan Cotey at 6:15 AM Thursday morning. The chicken had been loudly clucking from its cage in the basement, two floors below the sleeping couple. Their two cats, who were running freely in the home, did nothing.
Murawska says the home's smoke alarms didn't go off, endangering the family's lives. He only realized something was wrong when his wife awoke to Cluck Cluck's bellows.
"The chicken gets quite vocal when she gets excited," Murawska said.
Cluck Cluck wandered to Murawska's house from a nearby farm in Alma Center, 135 miles east of Minneapolis. The owner of the farm told Murawska he could kill Cluck Cluck because she wasn't producing any eggs. He couldn't do it, he says. He felt sorry for the chicken because she had a mutated foot. He decided to keep her and even built her a special coop outside. Eventually, Cotey began letting Cluck Cluck into the house on cold nights.
"I spent way more money than I ever should've," Murawska told The Associated Press. "I guess it paid off."
The couple safely escaped the fire. Cluck Cluck and one of their cats are safe, as well. The other cat, sadly, is missing and presumed dead. Murawska and his wife checked into a hotel for the time being and Cluck Cluck went to stay at the farm, temporarily.
Alma Center Fire Chief Jeff Gaede said the fire started in the attached garage and didn't seem suspicious. The house was completely burned down, but thanks to Cluck Cluck, the couple is safe.
"We are used to hearing about a dog or cat or something, but we never heard of a chicken waking up a resident for a fire," Gaede said. "That's pretty amazing.
h/t AP
—
>> Follow Anjali Sareen (@AnjaliSareen) On Twitter
Have a tip we should know? tips@mediaite.com