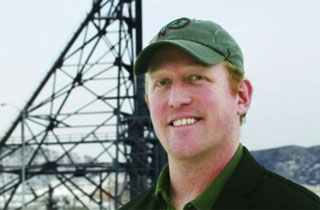 His name is Rob O'Neill, and he's the Navy SEAL killed Osama bin Laden during a raid on an Abbottabad compound in Pakistan.
The Daily Mail revealed the identity of the Seal Team Six member days before his identity would be unveiled during an interview with Fox, confirming it with O'Neill's father, of all people.
"People are asking if we are worried that ISIS will come and get us because Rob is going public," Tom O'Neill told the Mail. "I say I'll paint a big target on my front door and say come and get us."
O'Neill, 38, has participated in over 400 missions as a SEAL and, according to the Mail, is one of the most decorated SEALs in history, with "two Silver Stars, four Bronze Stars with Valor, a Joint Service Commendation Medal with Valor, three Presidential Unit citations, and two Navy/Marine Corps Commendations with Valor." However, he caused fury by speaking to the press numerous times about his role in bin Laden's assassination (all anonymous), and complaining about the lack of government benefits he received.
He also risks being completely shunned by the Navy by going public:
In a letter to past and present SEALs, Force Master Chief Michael Magaraci and commander Rear Adm. Brian Losey, made it clear that the vow of silence remains one of the most important tenets of SEAL life.

'A critical tenant (sic) of our Ethos is 'I do not advertise the nature of my work, nor seek recognition for my actions.' Magaraci and Losey wrote.

'Violators of our Ethos are neither Teammates in good standing, nor Teammates who represent Naval Special Warfare.

'We do not abide willful or selfish disregard for our core values in return for public notoriety and financial gain, which only diminishes otherwise honorable service, courage and sacrifice.'
O'Neill's interview with Fox airs at 10 PM EST in a two-part special next week, with the first half airing on Tuesday and the second half on Wednesday.
[h/t The Daily Beast]
[Image via LinkedIn]
—
>> Follow Tina Nguyen (@Tina_Nguyen) on Twitter
Have a tip we should know? tips@mediaite.com