'This Loss Was Mostly on Odell, Capt. of the Yacht Club': Check out the Hottest Beckham Jr. Takes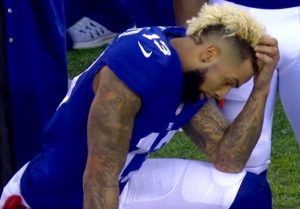 From the moment he dropped what would've been a touchdown pass in the first half of Sunday's playoff game against Green Bay, New York Giants wide receiver Odell Beckham Jr. was certain to be the target of many #hottakes from sports pundits across America.
That's because Beckham and three of his fellow receivers (including Sterling Shepard, who also dropped a sure-thing touchdown pass), spent the Giants' off day this past Monday down in Miami partying with the likes of of Justin Bieber and Trey Songz — first in a nightclub and then on a boat.
So whether or not the impromptu trip south actually impacted his play, it gave his critics ammunition with which to attack him if he didn't play to his usual high standard. And indeed, the takes came fast and furiously on Twitter as Beckham dropped three crucial passes.
Did you see Odell drop an easy touchdown and an easy (and key) third down conversion? Oh yeah, his head was totally in the game! https://t.co/Nwr2AMSioe

— Jason Mattera (@JasonMattera) January 9, 2017
If you want to be what Odell wants to be, you cannot no show the biggest game of the year. Boat or no boat. #Giants

— Mike Greenberg (@Espngreeny) January 9, 2017
This loss was mostly on Odell, capt. of the Yacht Club. Switched my pick to GB because that trip sent such a bad message to teammates and GB

— Skip Bayless (@RealSkipBayless) January 9, 2017
2 more drops for Odell Owens Jr. #BoatBoyz

— Jason Whitlock (@WhitlockJason) January 9, 2017
@JasonLaCanfora how about he runs thru the throw and makes a simple catch ? #showBOAT

— Bill Klinefelter (@billyk1313) January 9, 2017
@RealSkipBayless Odell is one of the best receivers in the league. But he is a crybaby who needs to get off the boat and practice

— Connor Gallegos (@c_legoz1204) January 9, 2017
Miami boat trip had no bearing on NYG loss. BUT it gave people ammo to blame Odell if they lost & he played badly. He doesn't "get it."

— Jason Smith (@howaboutafresca) January 9, 2017
Beckham was not without his defenders on social media:
Eli throws it 4 feet over Odell's head. "SHOULD'VE STAYED OFF THE BOAT!!!!!"

— Mina Kimes (@minakimes) January 9, 2017
Yeah, Odell Beckham the WRs went to Miami and forgot to catch a ball. Sure, let's run with that narrative.

— Giants Daily (@NYGDaily) January 9, 2017
I'm convinced Joe Buck mad he wasn't on the trip to Miami gotta be the only reason he keep bringing it up ?

— Charles James II (@CJDeuce_) January 9, 2017
So a guy goes to Miami for one day and that makes him forget how to catch? Someone's hair plugs are growing into his brain.

— ProFootballTalk (@ProFootballTalk) January 9, 2017
If Eli had been on that damn yacht like he shoulda been, with no shirt on, then OBJ catches that ball.

— Jason La Canfora (@JasonLaCanfora) January 9, 2017
Others were more concerned with what Beckham reportedly did after the game, when he was said to have punched a hole in the wall near the Giants' locker room.
Odell Beckham apparently punched this hole in the wall outside the Giants locker room. pic.twitter.com/Y6ufQ63hbF

— Ralph Vacchiano (@RVacchianoSNY) January 9, 2017
odell acting a fool after losing to me is way more problematic than any boat trip. he seriously has to get that under control.

— El Flaco (@bomani_jones) January 9, 2017
My two cents: Odell Beckham Jr shouldn't be a role model for anybody's kids until he's ready to start acting like one on and off the field.

— Trevor Logan (@iTzTLo) January 9, 2017
Odell Beckham did more damage to wall in hallway near Giants locker room after game than he did to Packers' defense. pic.twitter.com/YWNDy4wZbo

— Gary Myers (@garymyersNYDN) January 9, 2017
As for Beckham himself, in comments reported by Yahoo!, the receiver stood firm that his jaunt south was not the reason he had a subpar game.
"There's no way you can connect something that happened seven days ago to today," Beckham said. "That's not realistic. The connection is not there, in my opinion. But everyone is going to have their own opinion."
[image via screengrab]
–
Follow Joe DePaolo (@joe_depaolo) on Twitter
Have a tip we should know? tips@mediaite.com
Joe DePaolo - Senior Editor