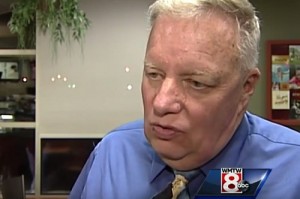 The Republican mayor of Lewiston, Maine wants to post the addresses of all welfare recipients online in order to shame them away from government handouts.
Robert Macdonald wants to submit a bill during the state's next legislative session that would require the creation of a website archive of the addresses of all the state's welfare recipients. On the one hand, Macdonald's push aptly coincides with his current efforts in seeking a third term as Lewiston's mayor. On the other hand, it's kind of illegal.
In an op-ed published in the Twin City Times, Macdonald lays out his reasoning for the proposed bill:
In Maine there is a website that lists the pension amounts received by everyone who is issued a monthly check by the State of Maine. No privacy here because this is being paid out by the State; accordingly, taxpayers have a right to know.

Yet other recipients of state revenues are shielded. Yes, I am referring to those known as welfare recipients.  Why are they treated differently than pensioners? (A rhetorical question).

The answer: our liberal, progressive legislators and their social-service allies have made them a victimized, protected class. It's none of your business how much of your money they get and spend. Who are you to question it? Just shut up and pay!
The Lewiston mayor hasn't found any sponsors for the bill yet, but a few of Maine's legislators have come close to doing so. At least that's according to Macdonald, who spoke with the Bangor Daily News following his op-ed's publication:
Macdonald said his proposals are designed "basically to stop these people from coming here. We're just getting overwhelmed here" from people who come to Maine from out of state.

It's not just the costs of welfare benefits, Macdonald said, but the costs of additional children in public schools, a lot of whom have special needs.

"I'm not talking about refugees," he said, but generational welfare recipients who move to Lewiston "to play the system."
Unfortunately for Macdonald's proposed legislation and website, the numbers just don't add up. While Maine's welfare programs, specifically in the form of food and financial support, account for $100 million of the state budget, it pales in comparison to the $2.7 billion Maine spends on affiliated medical programs. So Macdonald is focusing too much of his energy on a minor facet of the budget.
Then again, as the House chairman of the Health and Human Services Committee, Rep. Drew Gattine points out, "there are specific provisions in federal law that would prohibit" posting the information Macdonald wants to post online.
[h/t Gawker]
[Image via screengrab]
— —
>> Follow Andrew Husband (@AndrewHusband) on Twitter
Have a tip we should know? tips@mediaite.com