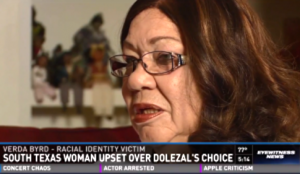 To say that the country became fascinated with the story (and possible repercussions) of the Washingston State NAACP leader Rachel Dolezal would be an obvious understatement. Depending on your own racial background and experience, or what channels or radio stations you usually tune in to, you've probably got at least a few opinions about the matter.
Yet chances are your approach to Dolezal's case is nothing like that of Converse, Texas resident Verda Byrd. That's because Byrd, who was born Jeanette Beagle in Missouri in 1942, thought she was black for the first 70 years of her life. Her biological parents were white, and when Jeanette and her siblings went into foster care, she was adopted by Ray and Edwinna Wagner of Kansas. The Wagners, as it turns out, were a successful African-American family.
Byrd found out early on that she was adopted, as Edwinna had "come clean" about it, but she never knew her true racial heritage until much later in life as her adopted mother "never told me that she had adopted a white baby. She took it to her grave that she had a white daughter."
By all accounts, Byrd — who was married twice and has a daughter — actually "grew up living the black experience." The difference between her and Dolezal, as she more than readily points out, is that she didn't actually know her true ethnicity for most of her life. She was never told otherwise.
Check out the clip below, courtesy of KENS 5 San Antonio:
[h/t KENS 5 San Antonio]
[Image via screengrab]
— —
>> Follow Andrew Husband (@AndrewHusband) on Twitter
Have a tip we should know? tips@mediaite.com