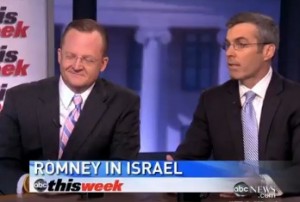 On Sunday morning's This Week, senior Obama campaign advisor Robert Gibbs and Romney senior advisor Kevin Madden sparred over Mitt Romney's inauspicious London trip, and while Gibbs' remark that Romney "embarrassed himself" is getting all the attention, it was Madden's failed attempt to explain what Mitt Romney would do differently regarding Israel that was the real revelation. Asked by This Week fill-in host Matthew Dowd for some "substantive policy differences," Madden could only muster a vague word salad.
One of the great risks of Mitt Romney's trip abroad is that it highlights an area where President Obama has a nearly untouchable lead on the former Massachusetts Governor. As Gibbs pointed out, the results of Romney's London rollout have done nothing to inspire confidence. "…to go overseas," Gibbs said, "stand in the country of our strongest ally, and on Olympics that they've been preparing for years for, and question whether or not they're ready does make you wonder whether or not he's ready to be commander-in-chief."
Dowd then, for some reason, made the point that "that was the beginning of the trip," adding, right on cue, that "he's having an end of his trip, where he's in Israel today."
Gibbs moved in for the kill, telling Dowd "Let's hope the do-over goes better than the initial audition, because like I said, let's be honest, Matthew.  If you can't handle smiling and talking about the Olympics," and adding, over Madden's protests, that he "thought it was embarrassing for our country."
Dowd segued to Israel, telling Madden that "many have wondered if there's really a huge distinction between the two candidates' foreign policy, real substantive distinction.  I know by words the governor has said that President Obama shouldn't have said this or shouldn't have done this, but real, substantive policy differences, especially on Israel," and asking him "Is there a real difference substantively?"
Romney's foreign policy message, like the Republican Party's, has mainly consisted of taking whatever President Obama has done, and saying he should have done it sooner, or faster, or slower, or more chocolaty, or less fillingly, but with very little information about what they would do differently. Madden's response contained more of the same, but with the redundant recurring theme that Romney was in Israel to make a strong statement, and send a strong message that he isn't just sending strong messages now, but will continue to send strong messages as president. That message is that we share values of "freedom and democracy."
Lest you think I'm being unkind, watch the clip, and see if you can glean a single "substantive policy difference" in what Madden said. The right loves to bag on Obama over Iran, but they don't seem to be taking President Obama up on his dare to say they support going to war with Iran.
Dowd then tried to change the subject without giving Gibbs the chance to respond, but Gibbs wasn't having it, reminding Dowd and Madden of the President's trip to Israel as a candidate, and referencing the Iron Dome defense system, for which the President has just approved $70 million in additional funding (timed for the weekend of Romney's Israel speech, it should be subtly noted).
As a matter of fact, the Romney campaign may have given Team Obama a huge opening on Israel. In another ABC News interview on Sunday, Romney advisor Dan Senor said ""If Israel has to take action on its own, in order to stop Iran from developing that capability the governor would respect that decision."
Since Israel has such a strong ally in the United States, and an ally, in President Obama, who "will not hesitate to use force," what does "respecting their decision" mean? The Obama campaign, and the press, should be asking Romney if his policy still includes "checking with the lawyers." I'd call that a substantive policy difference.
Here's the clip, from ABC News' This Week:
Follow Tommy Christopher (@TommyXtopher) on Twitter.
Have a tip we should know? [email protected]