Thousands of Social Security Numbers Were Exposed When Jeb Bush Released Emails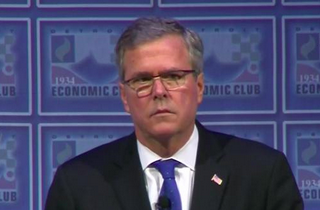 When former Florida Gov. Jeb Bush (R) released thousands of personal emails from his time at the helm of the sunshine state, he did so in an effort to show transparency ahead of his potential entry into the 2016 race for president. But what he probably did not know is that many of those emails contained personal information of his former constituents, even Social Security numbers.
Bush released the emails and posted them to www.jebbushemails.com. According to the Associated Press, the CEO of a data protection firm found that as many as 12,000 Social Security numbers were compromised as a result. Todd Feinman, the firm's CEO, told the AP the error was "obviously very innocent."
"I am posting the emails of my governorship here," reads a note on the website. "Some are funny; some are serious; some I wrote in frustration. But they're all here so you can read them and make up your own mind."
A Bush spokeswoman told the AP that the former governor's PAC, Right to Rise, was not involved in the posting of the emails. The same spokeswoman, however, said the governor released 275,000 emails, while Feinman said his firm's analysis showed there were about 333,000 messages.
American Bridge, a Democratic opposition PAC, had posted the emails in December, and a spokesman for the group said they are removing them.
Most of the private information is now removed from www.jebbushemails.com, Feinman said.
[Image via screengrab]
— —
>>Follow Andrew Desiderio (@forza_desiderio) on Twitter
Have a tip we should know? tips@mediaite.com