As the first season of True Detective winds to a close, with speculation online reaching a fevered pitch as to who the killers at the heart of its mystery actually are, a series of images from last night's episode of unflinching, supernatural evil tied into the rites of Santeria and Saturnalia and Voodoo brought us one step closer to figuring it all out.
The evil, it turns out, is a lot closer to us than we think.
So just who are the soulless masked men in these mysterious cults, the sacrificers of children for their own nefarious purposes in a religion that worships greed and death? Who is the the man who'll stop at nothing to see his own godless evil brought unto the world.
It's Obama and his Affordable Care Act ambassadors of doom, of course.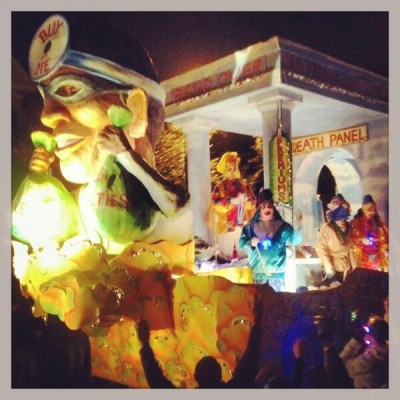 Okay, so these are actually images from real Mardi Gras floats from pre-festivity parades going on for the past few days in New Orleans; but think about it, all the evidence is here.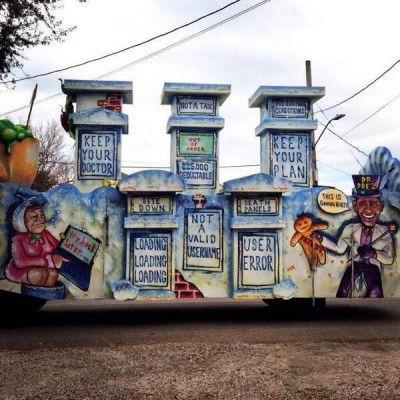 And we have the obsessive, good-hearted, but ultimately flawed detectives on the right to thank for their dogged pursuit of the real killer. What is online demagoguery if not its own form of true detective work? Each Obamacare critic a sort of version of Rust Cohle, pushing for the truth when no one else will listen and vast government conspiracies attempt to hold them down.
It's probably no coincidence that Obama, shown below, has a deathly yellow tint to his skin, and is attended by all manner of ungodly practitioners of the occult. We don't need to figure out who the Yellow King on the show is, because we know who he is in the real world: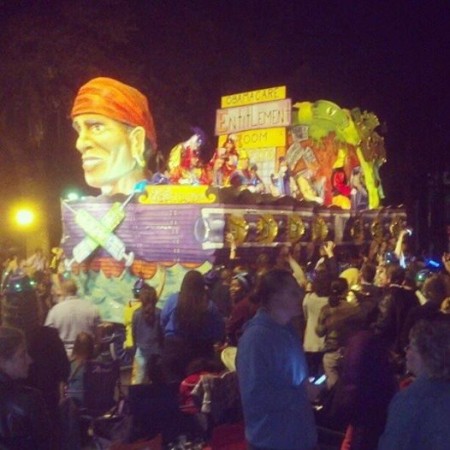 Just consider this quote from Robert Chambers' The King In Yellow:
"The ambition of Caesar and of Napoleon pales before that which could not rest until it had seized the minds of men and controlled even their unborn thoughts," one character says of the cosmic-nightmare villain. "He is a king whom emperors have served."
"I am content to serve him."
[Images via Fire Andrea Mitchell]
— —
>> Luke O'Neil is a self-loathing journalist and blogger in Boston whose work has appeared in Esquire, Slate, The New Republic and many others. Follow him on Twitter (@lukeoneil47).
Have a tip we should know? tips@mediaite.com