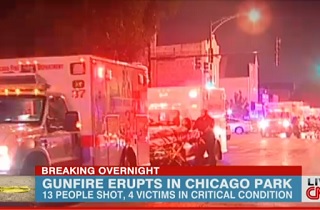 A week that began with 13 people being killed in a mass shooting at the Washington Navy Yard has ended with 13 people wounded in a mass shooting at Chicago's Cornell Square Park Thursday night, among them a three year-old boy named Deonta' Howard. The child, shot in the head, was the most seriously wounded in a shooting that police are saying was gang-related. In a chilling illustration of the gun violence in the city, Deonta's uncle was reportedly among those killed in a string of Labor Day Weekend shootings just two weeks ago.
From The Chicago Tribune's Peter Nickeas and Jeremy Gorner:
Police said later a total of 13 people were shot, the boy, two teens, and 10 adults, with the boy the most seriously wounded. The boy suffered a gunshot wound to the head at an ear that exited through his mouth, and was in critical condition at Mount Sinai Hospital, police said.

The attack took place about 10:15 p.m. and fire officials called an Emergency Medical Services Plan II, sending at least 10 ambulances to the scene.

Chicago police were making no information about what happened public, except to say that the shooting appeared to be gang-related. The shootings took place on a basketball court on the 51st Street side of Cornell Square Park near Wood Street.

…Family members identified the boy as Deonta' Howard, whose uncle was shot to death on Labor Day, Sept. 2.

Deonta'–pronounced Deontay–nicknamed Tay Man, has a dislike for haircuts, one cousin said.

"He didn't like haircuts because he has a big head," said Porsche Chester, a cousin of the boy's. "But he is extremely smart. He didn't have that (head) for nothing."
There were 19 people wounded in a Mother's Day mass shooting in New Orleans this past May, but neither that mass shooting or the one in Chicago last night have received, or will receive, the sort of wall-to-wall coverage that events like the Navy Yard shooting or the Boston Marathon bombing do.
CNN reports that aside from the 3 year-old, the victims included two 15-year-oldsand that the rest were adults ages 21 to 41.
Here's CNN's report on the shooting:
Have a tip we should know? tips@mediaite.com