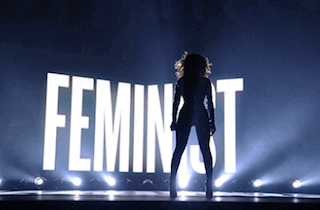 Last week, Time magazine presented its fourth annual word banishment poll. Among terms like "disrupt" and "obvi," one candidate stood out: "feminist." After some major backlash, much of it from female journalists, Time editor Nancy Gibbs has issued an apology for the inclusion.
The original article justified the end of "feminism" like this:
You have nothing against feminism itself, but when did it become a thing that every celebrity had to state their position on whether this word applies to them, like some politician declaring a party? Let's stick to the issues and quit throwing this label around like ticker tape at a Susan B. Anthony parade.
In return, the magazine received comments such as these from prominent feminists on Twitter:
Hey, @TIME, please do explain why 'feminist' is in the poll of "worst words that should be banned in 2015." http://t.co/druenFnN1t #fem2

— Shelby Knox (@ShelbyKnox) November 12, 2014
"Feminist" has had an awesome 2014. Suggesting banning it is stupid on linguistic grounds, not just political ones: http://t.co/XU2uv4yseU

— Alyssa Rosenberg (@AlyssaRosenberg) November 12, 2014
Banning the word "feminist"? I can't even, @time. (And you'll pry this kale out of my cold, very healthy hands). http://t.co/Nd6CG4zWZE

— Jill Filipovic (@JillFilipovic) November 12, 2014
TIME thinks the word "feminist" should be banned? We think reductive attacks on feminism should be banned. #justsayin http://t.co/3pJMAs4SyD

— Planned Parenthood (@PPact) November 12, 2014
Now, the original post includes an apology from Gibbs that reads:
TIME apologizes for the execution of this poll; the word 'feminist' should not have been included in a list of words to ban. While we meant to invite debate about some ways the word was used this year, that nuance was lost, and we regret that its inclusion has become a distraction from the important debate over equality and justice.
As Jezebel reported last week, sites like 4Chan and 9Gag rallied their users to drive "feminist" to the top of Time's poll with one user posting, "Let's trigger some bitches."
[Photo via screengrab]
— —
>> Follow Matt Wilstein (@TheMattWilstein) on Twitter
Have a tip we should know? tips@mediaite.com