Time Inc. to Receive $10M Job-Creating Subsidy, but Can Still Fire 900 People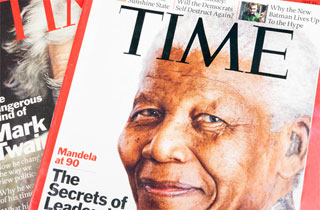 Normally, you'd expect a taxpayer-funded job creation subsidy to do things like, say, create jobs. And in an age where newsrooms routinely cut staff, you'd also expect that a job-creating subsidy would, like, create jobs for newsrooms. But according to documents unearthed by WNYC, Time Inc., which recently received up to $10 million in subsidies from the City of New York, can cut up to a third of its staff — which they plan on doing — and still keep the money.
According to WNYC, the publishers of Time and Sports Illustrated, which proposed to move their offices to New Jersey to save money, received $7 million from the the World Trade Center Job Creation & Retention program in order to keep those jobs in New York City, as well as $3 million tax credit from the Excelsior Jobs Program. In return, they would invest $150 million in a lower Manhattan revitalization program, thanks to, according to a spokesman, an "attractive lease" in a building where "its main headquarters will be located for many years to come."
But the terms of the project, revealed in these documents, allow Time to slash its workforce to 2000 employees, and according to their filing, Time currently employs 2,917 people — which somewhat goes against the point of a jobs-creation subsidy.
"It is unusual when you see a subsidy deal like this that is going to a company where it's generally assumed they're downsizing," Elizabeth Bird, of the group Good Jobs New York, told WNYC.
It's widely suspected that Time plans on cutting staff, thanks to low earnings reports and this SEC filing, in which the company suggested they would ship jobs overseas, and "anticipate[d] additional headcount and efficiency measures in the future." (Last February, Time Inc. laid off 500 staffers, ahead of its June IPO.)
An ESD spokesman defended the tax credit, telling WNYC that its goal was to to keep Time Inc.'s jobs in New York.
[WNYC]
[Image via Popartic / Shutterstock.com]
—
>> Follow Tina Nguyen (@Tina_Nguyen) on Twitter
Have a tip we should know? tips@mediaite.com