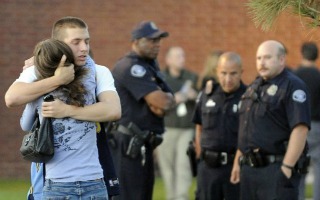 Time Magazine editor Michael Grunwald took to the magazine's Swampland section to tell his readers that he thinks there is "nothing wrong with politicizing a tragedy," specifically the Colorado movie theater shootings in which 13 people have died and nearly 40 people were seriously injured. His point is that if there are policy proscriptions that could address these events and prevent them before they occur, than it is important and necessary to politicize these events. His intentions may be good, and his motives are genuine and honest, but to suggest that on the day of such a disaster that it is appropriate for politicians to advance a legislative agenda – especially in an election year – is reprehensible.

RELATED: UPDATE – ABC Corrects Report: ABC News' Brian Ross Links Colorado Shooter To Local Tea Party
"I feel terrible about what happened in that movie theater, and I'm agnostic about gun control, but there is nothing wrong with politicizing tragedy," writes Grunwald.
If advocates or experts or even politicians think their policy ideas can prevent the next Aurora—by preventing potential killers from obtaining guns, by making sure potential victims can carry guns, or by some other method—then by all means, now is the time to spread the word. Pretty soon, the pundits will be back to "you people" and "you didn't build this" and whatever new verbal gaffe overwhelms the competition to lead the free world.
"Obamacare" and "gay marriage" are not just issues that might play badly with swing voters or turn the tide in Virginia; they're issues that affect people's lives," Grunwald concludes. "Gun control and the Second Amendment are issues, too, and now seems like a pretty good time to talk about them."
No. It's not. Full stop.
There is nothing more sad and base than an ambitious advocate or politician who attempts to use an atrocity – not "tragedy" – like this to their advantage. And while the motives of policy advocates of something like gun control are good, careers are advanced by forwarding policy. There is no way to divorce career advancement from political advocacy, no matter how well intentioned the policies those advocates support may be.
That is why it's inappropriate to talk politics today. As though anyone needed to be reminded of that.
> >Follow Noah Rothman (@Noah_C_Rothman) on Twitter
Have a tip we should know? tips@mediaite.com