Tirade-Prone Maine Gov LePage Admits What We're All Thinking: 'Maybe It's Time to Move On' (UPDATED)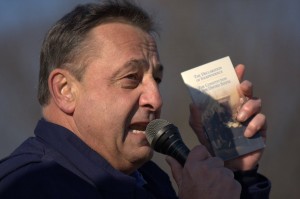 The embattled Republican governor of Maine admitted during a radio show interview this morning that perhaps it's time to call it quits.
First reported by the Portland Press Herald, the exchange came from Paul LePage on WVOM, a radio station in Bangor, in light of another controversy surrounding a profanity-laced voicemail he left for a state legislator.
LePage said Tuesday, "I'm looking at all options… I think some things I've been asked to do are beyond my ability. I'm not going to say that I'm not going to finish it. I'm not saying that I am going to finish it."
LePage continued, "If I've lost my ability to help Maine people, maybe it's time to move on."
He also apologized to that sate lawmaker, Rep. Drew Gattine, for the voicemail where the governor casually asserted last week that Gattine was a "son-of-a-bitch socialist cocksucker." You know, standard state gubernatorial stuff. The tirade stemmed from LePage thinking that Gattine called him a racist.
The governor admitted further Tuesday, "When I was called a racist I just lost it, and there's no excuse. It's unacceptable. It's totally my fault."
In January, the governor first came under fire for remarks he made at a town hall regarding drug trafficking in and out of the state. He said of the drug dealers, "These are guys with the name D-Money, Smoothie, Shifty – these types of guys – they come from Connecticut and New York, they come up here, they sell their heroin, they go back home."
Then, he doubled down just a bit more: "Incidentally, half the time they impregnate a young white girl before they leave, which is a real sad thing because then we have another issue we have to deal with down the road."
Most recently — and likely the inciting incident to the Gattine fiasco — was an episode last week where LePage offered, "the enemy right now… are people of color or people of Hispanic origin".
He heartily continued, "I don't ask them to come to Maine and sell their poison, but they come and I will tell you that 90-plus percent of those pictures in my book, and it's a three-ringed binder, are black and Hispanic people from Waterbury, Connecticut, the Bronx and Brooklyn."
UPDATE – 1:03 a.m. ET: LePage put out a tweet today in response to those who took his interview comments to mean that his resignation is imminent:
Regarding rumors of resignation, to paraphrase Mark Twain: "The reports of my political demise are greatly exaggerated." #mepolitics

— Paul R. LePage (@Governor_LePage) August 30, 2016
This is an opinion piece. The views expressed in this article are those of just the author.