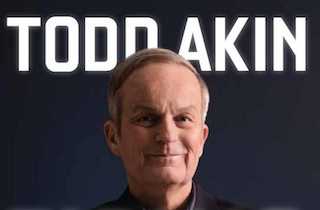 Todd Akin, of "legitimate rape" fame, has a new book coming out. And according to POLITICO, which got an advance look at it ahead of its July 15 release, Akin is not apologizing for anything he said during his 2012 Senate campaign in Missouri.
In Firing Back: Taking on the Party Bosses and Media Elite to Protect Our Faith and Freedom
, the six-term congressman blames both Republican leaders and a liberal media for destroying his political career and dooming his chances of unseating Sen. Claire McCaskill (D-MO).
"I was the target of a media assassination," Akin writes in the book. "So it really didn't matter about what I said, or logic, or truth. I had mentioned 'abortion' and 'rape.' That was enough. It was simply an assassination."
Akin also goes into a great detail to defend the validity of his comments about rape:
"Taking my comments in order: When a woman claims to have been raped, the police determine if the evidence supports the legal definition of 'rape.' Is it a legitimate claim of rape or an excuse to avoid an unwanted pregnancy?

My comment about a woman's body shutting the pregnancy down was directed to the impact of stress on fertilization. This is something fertility doctors debate and discuss. Doubt me? Google 'stress and infertility,' and you will find a library of research on the subject."
Just last week, Akin proved he's not afraid to continue discussing the issue that got him into so much trouble two years ago, going so far as to use the words "legitimate" and "rape" in the same sentence when criticizing Hillary Clinton for once representing an accused rapist.
'It is incredibly hypocritical that Hillary Clinton would carry on about an imagined 'Republican war on women' when she once got a child rapist off the hook who she knew to be guilty, and laughed about how she did it when interviewed," Akin said in an interview.
"In the process, she de-legitimized the legitimate claims of the 12-year-old victim and then slandered the victim to justify her tactics," he added. "Hillary Clinton, in fact, has made a practice of trashing women with legitimate claims to having been assaulted."
[Photo via Amazon]
— —
>> Follow Matt Wilstein (@TheMattWilstein) on Twitter
Have a tip we should know? tips@mediaite.com