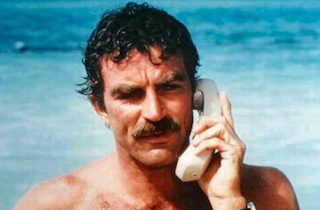 One of the side effects of California's historic drought is the extent to which the story intersects celebrities, who pock the state's southern landscape, and whose general theory that they can do whatever they want has led them to try to beat the parched state's water restrictions.
See you Tom Selleck, whom Ventura county alleged has been stealing tanker-truckloads of water from a fire hydrant for his private avocado ranch.
The county had already sent Selleck a cease-and-desist order, but after a private detective caught Selleck stealing water several more times Ventura filed suit.
Don't worry, everybody's friends again: the county voted Wednesday to settle with Selleck for $21,685.55, a decent chunk of change given that everyone agrees Selleck paid for the water he took. The problem was more over from where he was siphoning the sweet, sweet life juice: the county alleged Selleck had crossed the county line from Thousand Oaks into Venture, taking water that didn't belong to him even if he did pay for it.
Via the Telegraph:
Despite recent claims by Jay Spurgin, the public works director for the city of Thousand Oaks, that the water had been paid for, the acting president of the Calleguas water board Thomas Slosson said that the removal of water outside of a district's boundaries was forbidden by both state and local law.

This was reinforced by Calleguas' general manager Susan Mulligan, who said on Wednesday night that the process remains illegal, whether the water was paid for or not.
"Underpinning these laws is the concept of basic fairness," the Calleguas Municipal Water District president said. "That is, residents and businesses within the district – the rightful users of district water — paid for the construction, maintenance and operation of the public works necessary to meet their water needs, not those of other landowners outside Calleguas' legal boundaries."
So what's the $22K for? To cover the cost of the private detective to catch him stealing the water.
In conclusion, it must be nice to be a celebrity and pay people later for the stuff you take.
[h/t Telegraph]
[Image via screengrab]
——
>> Follow Evan McMurry (@evanmcmurry) on Twitter
Have a tip we should know? tips@mediaite.com