Tommy Christopher To Bill Press: President Obama Doesn't Sound Like A Mother-In-Law Anymore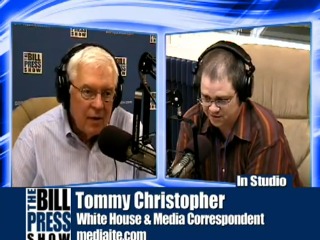 Mediaite's own Tommy Christopher was a guest on The Bill Press Show, discussing various recent headlines. He gave his assessment on (relatively) new White House Press Secretary Jay Carney, whom he thinks has "come alive" within the last two months, particularly with the debt ceiling discussion, and how Barack Obama seems to have suddenly "found a voice" and has taken to calling people out on both sides of the aisle — from Congressional Republicans to the (mostly) liberal members of the Congressional Black Caucus.
He describes Obama's change from his last campaign to recent weeks:
It worked during the 2008 campaign, this high road business worked for him and he won doing that. And I think he thought, "Oh, that'll translate to, you know, this." But it hasn't.
Press and Christopher also discussed Jon Stewart's recent comments about Rick Perry's performance at last week's debate.
"I mean, that was not Saturday Night Live making fun of Rick Perry," said Press. "That was Rick Perry." Christopher nodded. "You almost feel sorry for him."
The two also discussed New Jersey Governor (and man of the moment) Chris Christie's participation in a Vail, Colorado seminar funded by the Koch brothers. Christopher noted that Christie hadn't placed the event on his public schedule. He also said that, while he gets crap for having "two first names," at least he has two dudes' names. Oh, Tommy. I'd lend Christie the name "Alex" if he needed it. Lord knows everyone assumes it's solely a guy name.
Listen to the interview for yourselves, courtesy of The Bill Press Show:
Part 1:
Part 2:
Have a tip we should know? tips@mediaite.com