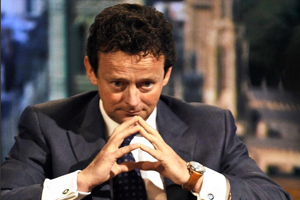 In the United States, outgoing BP CEO Tony Hayward is, at best, a national joke, and at worst, an incompetent, deliberately heartless oil baron who deserves not an ounce of sympathy. In the UK, people buy him drinks when they see him in nightclubs and greet him with standing ovations. In his first interview since announcing his departure, Hayward tells the Wall Street Journal that the difference in image is due to his demonization in the American media.
Hayward agreed to step down in October and has been given a job with a BP joint venture in Russia. While he acknowledged to the Wall Street Journal that he made several gaffes while dealing with the Gulf oil disaster, in particular his now legendary "I'd like my life back" comment, he also told the newspaper that he would have liked to stay, and that he believed he was doing a good job with the cleanup, and that BP will be vindicated:
"I became a villain for doing the right thing," Mr. Hayward said in the interview. "But I understand that people find it easier to vilify an individual more than a company." […]

Mr. Hayward made clear he wanted to stay, but decided it would hurt BP as its works to permanently cap the well, and repair the Gulf coastline and the company's public image. "I didn't want to leave BP, because I love the company," Mr. Hayward said in the interview. "Because I love the company, I must leave BP." Earlier this week, BP announced he would step down as its leader Oct. 1.

He added: "In America, the road back will be long but I believe achievable when the whole truth of the accident finally emerges and the Gulf coast is restored….BP can rebuild faster in America without Tony Hayward as its CEO."
Hayward blaming the media for his national image in the US is nothing new, but to many Americans, Hayward's image across the pond will come as somewhat of a surprise. Before the Deepwater Horizon explosion, Hayward was embraced as the level-headed, clean-cut successor to the scandalous and flamboyant Lord Browne. Afterwards, it became difficult for the media to turn on him. 100 days later, Hayward still enjoys a fairly strong reputation among colleagues and commoners alike:
Shell-shocked by his dramatic fall, Mr. Hayward was greeted with a standing ovation as he held the first in a series of employee town halls at corporate headquarters Wednesday. "If you keep clapping, I will cry," he said, with his voice cracking. […]

Sitting with a friend recently at a London club, a stranger at a neighboring table sent over two large glasses of brandy.
The way Hayward is treated in the UK puts some perspective on his attitude towards the US media– when people in his country respect him so highly, it must be difficult to understand why the foreigners whose oceans are now ruined thanks to his company have been so stern on his reputation. Meanwhile, his successor, Bob Dudley, has been enjoying slightly better media in the US thanks to a combination of not saying things like "I'd like my life back" and, possibly, a better understanding of American media. With the relief wells almost complete and the well cap holding strong, it is yet to be seen whether Dudley will continue to enjoy his comparatively cleaner image, but if BP gets its act together on cleanup, keeping Hayward out of the spotlight might prove fruitful for them.
[Photo: Reuters]
Have a tip we should know? tips@mediaite.com