Tony the Tiger to Furries: If You Could Stop Tweeting Me Porn, That'd Be Grrreat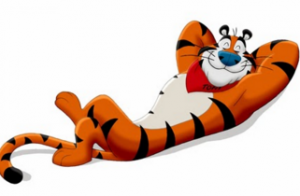 A few days ago, Kellogg's started blocking furries left and right on their Frosted Flakes Twitter account, which struck some as pretty discriminatory. Some members of the furry community have been sending graphic messages to the cereal's spokestiger for months now and the family-friendly company had had enough.
As far as tweets go, these started out pretty benign by typical teen or subculture standards. That is to say, though, that they were totally horrifying by the standards of the average American parent. References to advanced sex acts and "cummies" were abundant and Tony the Tiger became known almost exclusively as "Daddy," much like Bernie Sanders and other prolific Twitter users before him. (If you don't understand or get these references, don't feel bad. Consider yourself lucky. As a digital native and decently-savvy Millennial culture connoisseur/creator, I do understand, and it gets pretty stressful.)
Things seem to have escalated, sadly, based on the blocking spree.
I don't even think I've ever tweeted at @realtonytiger, did they just go and block all furries? XD pic.twitter.com/4U2OXme82Y

— RAWRlie on the MTA (@KinielCat) January 26, 2016

(Note: The person in the above tweet claims to never have tweeted at the sports-loving tiger, but a follower brought forth evidence that they had, in fact, once tweeted about wanting "smooches" from him. For your records, this is known as producing "receipts.")
Anger from the mass blockings soon manifested itself as revenge and furries began inundating the account with even more graphic descriptions of their Tony-centric desires and a whole lot of porn. The account was forced to issue the following micro-missive:
I'm all for showing your stripes, feathers, etc. But let's keep things gr-r-reat – & family-friendly if you could. Cubs could be watching ?

— Tony the Tiger (@realtonytiger) January 28, 2016
According to The Guardian, the porn hasn't stopped flooding the poor intern's mascot's mentions altogether, but it has slowed down. That may or may not be because the furries of Twitter have moved on from this bitter breakup, rebounding with none other than the super-naughty Chester Cheetah.
@tallfuzzball Oh, I know I am but I always appreciate the compliment. ?

— Chester Cheetah (@ChesterCheetah) January 26, 2016
[image via screengrab]
For more from Lindsey, follow her on Twitter.
Have a tip we should know? tips@mediaite.com