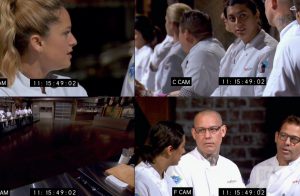 Welcome back! Let's get right to it. The cheftestants are talking about the last challenge and Emily is upset because more people are consoling Brooke than are her. Silvia is nervous because it's her birthday, and historically when a contestant celebrates his or her birthday, that contestant tends to go home. Silvia notes that she's not that nervous, however, because she wanted to be on Top Chef on her birthday, to which I ask, why?
No time to wonder about that. The chefs enter the the Top Chef kitchen, but surprise! It's empty, but there are 40 minutes on the clock. "Or 4,000," says Brooke. It's probably 40, though, let's be real. The whole thing reminds Jim of a horror movie because the kitchen is dark and Padma Lakshmi is missing. Jim should not write any horror movies. The chefs stand and wonder aloud what the challenge could be. Maybe it's to make anything you want in 40 minutes.
In the control room, Padma and the producers are acting like this is fascinating. "I love hearing what they're saying when I'm not in the room. This is amazing," she says (it's not).
Amanda then notices that the door is closed. The control room goes nuts, and the clock starts. The pantry opens, and Sylva realizes that it's probably a biscuit challenge, so the chefs decide they're making biscuits and get to work.
In the control room, everyone continues to act like there's a lot more going on than there actually is. Padma is positively giddy. In reality, the chefs are just making biscuits.
Sheldon is nervous because he's never made biscuits before, but he's standing next to Brooke, the "biscuit queen," so he feels better about it- he'll just do what she does. He's also dealing with what sounds like a pretty significant back injury. Jim is making his biscuits with scallops, and they're more done than he'd like them to be, which is never a good sign. Jamie also has never made biscuits before- he hopes they rise and don't "turn into cake, you know?" I've never made biscuits before either, so no, I don't know. Casey says, "to me, this is fun."
Silvia has also never made biscuits before but she was a pastry chef, so she thinks she'll be okay. She's making a savory biscuit with some sort of avocado cream cheese. In the control room, Padma is visibly disgusted. She's also nervous for Brooke, who is using cornichons to make relish for her "biscuit hot dogs."
John Currence is guest judging this Quickfire Challenge. Sylva from my fantasy team is up first. His biscuit with a scallop in the middle sounds weird, but it goes over really well. John's classic take on the biscuit is also a hit. Katsuji's biscuit with corn relish is interesting, but it's too sweet for Padma. Silvia's salmon biscuit with avocado creme fraiche is up next and despite Padma's face while in the control room, it's a big hit. When she tells John Currence it's her first  time ever making the biscuit, he says "I hope you do everything this well on your first try." Jamie's breakfast biscuit with a sunny side up egg is also excellent. Shirley's biscuit with mascarpone and blackberry is only okay- the mascarpone is too heavily seasoned. As expected, Jim's scallop is overcooked. Brooke's "bagel and lox" biscuit is a hit, obviously. Sheldon's is a miss.
The worst three dishes in the Quickfire were Shirley's, Sheldon's, and Jim's, which sucks because he's the only one who at any point said "I make a lot of biscuits." The best dishes were Brooke's (obviously), Katsuji's (take that, Padma), and Jamie's.
Quickfire Challenge Winner: Brooke
Now, onto the Elimination Challenge. It's a choose your own team situation, and here to judge is Rodney Scott, of Scott's BBQ. The challenge? Whole hog barbecue. The chefs need to decide whether to do a mustard or vinegar sauce and three sides for 150 people including Darius Rucker. Sheldon says that this is "[his] challenge to win." His dad makes whole hogs in Hawaii. His back is killing him though, so he goes to get an MRI.
Team 1: Casey, Shirley, Jamie, Jim.
Team 2: Amanda, Sylva, Katsuji, Silvia.
Team 3: Brooke, Sheldon, John, Emily.
The teams have 14 hours to cook for the following day, which means they'll be up all night. First, however, they're going to go learn about barbecue from two pitmasters. They ask lots of questions, and to be honest I'm way too hungry for it to be this late at night.
Brooke is way too excited to use a piece of machinery to break down the pig. She's also seriously annoyed by John, who is talking way too much. Overall the challenge looks pretty fun- lots of fires and s'mores, and staying up all night.
The next day, things are going relatively smoothly- except with Sylva's team. He's made a classic mistake- he's not making a vinegar or mustard-based sauce. What he did make, Amanda notes, is delicious. It's just not what the instructions were. Silvia is also going in the wrong direction. She's not going to make a traditional salad. Unfortunately, this is a barbecue meal, and people are going to want traditional. Katsuji, the only chef who makes kosher food for a living, is somehow the one dealing with the pork. Also, his sauce for the beans smells, as Tom Colicchio puts it, "funky."
Once the chefs are done cooking, Darius Rucker performs. Everyone kind of pretends they know the words to the song and tries to sing along, but really, they don't.
First up is the yellow team. They've made their pork with vinegar sauce. On the side is pineapple slaw, smoked mac and cheese, and braised pinto beans with mango and kohlrabi. Emily's beans are underdone, but besides that, everyone likes everything on the plate. The red team is similarly successful. The trotter and pig-head hash was excellent, as was the braised cabbage. Their sauce wasn't as good as the yellow team's, but that allowed the judges to taste the pork, which was done well. The green team's meal is pretty much a disaster. The sauce is a disaster, the potato salad isn't traditional and is also weird looking, and Katsuji's beans were, in fact, funky. Amanda's slaw is fine.
Elimination time! Winning team: Yellow.
Challenge Winner: John
Losing team: Green.
Eliminated: Silvia, proving the Top Chef birthday curse is real.
See you next week!
Have a tip we should know? tips@mediaite.com