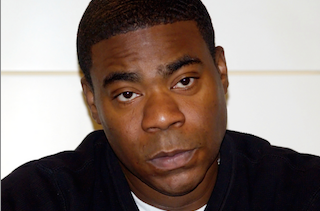 It's been a little more than a month since comedian Tracy Morgan was critically injured in a six-vehicle crash that also killed his friend and fellow comic James McNair. Now that Morgan's condition has improved, he has decided to sue the Wal-Mart corporation, for whom the truck driver who hit his limousine van was working, for negligence.
According to The Hollywood Reporter, the complaint, which was filed in U.S. District Court in New Jersey Thursday, reads:
"Walmart was careless and negligent in the ownership and operation of its motor vehicle, which caused Mr. Morgan to suffer severe personal injuries. As a direct and proximate result of said collision, Mr. Morgan was caused to sustain severe painful bodily injuries, including but not limited to multiple fractures which required multiple surgeries, extensive medical treatment and will require significant physical rehabilitation."
The suit asserts that Wal-Mart should have known that driver Kevin Roper had been awake and on the road for more than 24 consecutive hours, as reports have stated. The plaintiffs in the case are seeking damages and legal fees totally an unknown sum.
A few days after the incident, Roper expressed his views on Twitter, before ultimately protecting his tweets from public view.
"I was never charged at the scene of the accident because once again i was not guilty of any crime. Not until all the TV cameras came did the police all of a sudden make a determination i was up 24 hours (sounds good and sells papers) also covers their ass," he wrote on Twitter. "So yes i am now most likely fu*ked because i had an unfortunate ACCIDENT with the wrong car that night. I thought our country said we still had right of being innocent until proven guilty? Oh wait that doesn't sell newspapers or get website hits."
[Photo via Wikimedia Commons]
— —
>> Follow Matt Wilstein (@TheMattWilstein) on Twitter
Have a tip we should know? tips@mediaite.com