Treasury Department Explains Jay-Z And Beyonce's Trip To Cuba Was Legal, 'Educational Exchange Trip'
Treasury Dept: Jay-Z And Beyonce's Trip To Cuba Was Legal, 'Educational Exchange Trip'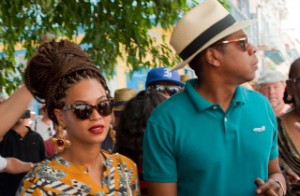 The United States government has now officially responded to the uproar over Jay-Z and Beyoncé's trip to Cuba last week. The Treasury Department's Office of Foreign Assets Control sent out a letter today addressed to Republican members of Congress saying that the trip was, in fact, legal, and said that the two celebrities vacationing in Cuba classified as "educational travel."


Educational travel is considered one of the few exceptions to the ban on travel to Cuba, and it was even rejected during the Bush administration, only to be restored by Obama two years ago.
RELATED: Cuban-American GOP Reps Challenge Jay-Z and Beyoncé's Trip To Cuba
Assistant Treasury Secretary for Legislative Affairs Alastair Fitzpayne explained in the letter why they consider the trip by Jay-Z and Beyoncé to be legal.
OFAC requires participants in people-to-people trips to engage in "a full-time schedule of educational exchange activities that result in meaningful interaction between the U.S. travelers and individuals in Cuba," noted the letter, obtained by El Nuevo Herald.

But participants also "may engage in non educational activities off hours," added the letter, signed by Assistant Treasury Secretary for Legislative Affairs Alastair M. Fitzpayne.

Beyoncé and her husband visited the Superior Institute of the Arts and watched performances by the Modern Dance Troupe and a children's theater group. But they also strolled around Old Havana's iconic tourist attractions and celebrated their fifth wedding anniversary with a three-hour dinner at one of the city's best-known restaurants.
Of course, this explanation did not assuage Republican concerns. Congresswoman Ileana Ros-Lehtinen said the fact that a celebrity vacation is classified by an educational trip means that the "Obama administration is not serious" about dealing with the Castro regime. The celebrity couple got into Cuba thanks to a New York-based company called Academic Arrangements Abroad.
—–
Follow Josh Feldman on Twitter: @feldmaniac
Have a tip we should know? tips@mediaite.com
Josh Feldman - Senior Editor