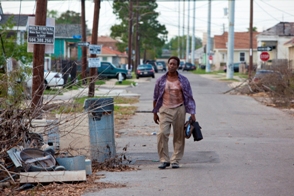 You know a television show is IMPORTANT television when both The Atlantic and The American Prospect are having online seminars dissecting every nuance, musical note, and unspoken glance. So it is with HBO's Treme, the newest must-see television show for the media crowd, which premiered this Sunday and is already greenlighted for a second season.
The show–by former journalist, media darling, and Stuff White People Like favorite David Simon–details life in post-Katrina New Orleans, specifically in the Treme neighborhood three months after the hurricane. Like The Wire and The Corner, two of Simon's other works for HBO, the show has gotten instant attention from the press-including Mediaite— looking for something to talk about besides Jersey Shore and American Idol.
The Treme obsession at TAPPED and the Atlantic Online are modeled after Slate's TV club where journalists sit around and talk about their favorite TV shows, like Mad Men and Friday Night Lights.
Here's TAPPED's Alexandra Guttierez and Aminatou Sow:
AG: The episode succeeds in creating a sense of the city and, more important, giving us hugely personal introductions to the major players of the New Orleans jazz scene. (Perhaps maybe too personal. I'm with Amina in that I didn't need to see Steve Zahn's tush tonight.)

I thought the set up was great. I love that it started with Batiste (The Bunk! And an actual New Orleans native!) navigating the "second line" — the less than official but absolutely clutch portion of a parade where brass bands play without permits to people who dance like crazy. Only, in this parade, there's no main line. There's no orderly, sanctioned celebration; official New Orleans is gone. Instead, there's just a bunch of people who are trying to capture something that reminds them of home.

AS:"They're doing it! The first second line since the storm," sets up the psychological profile of this episode. There is so much loss and powerlessness, but the music and traditions prevail, lifting spirits. Also I am beyond ecstatic that America gets to see there is more to New Orleans than Bourbon Street.
And here's Matt Yglesias at The Atlantic talking about Treme's realism:
Treme also feels realistic, but it's a different realism. Not the realism of a man who's lived in a city for years and is here to share with us what it is. But the realism of a man who's gone to research a city he loves and wants to present it for us. Simon's New Orleans is the New Orleans of those who inhabit and love the city, a counterpoint to the tourist's New Orleans but not a deeply personal vision of the city the way The Wire is of Baltimore. It seems clear that if a lifelong resident of New Orleans were to complain to Simon about a lack of realism that he'd be genuinely saddened.
While the Treme navel-gazing has included the word "authentic" much too often and we are bound to go into jazz overload before the season's metaconversation is over, the Treme talk has been pretty insightful and an opportunity for both groups to bring in some outsiders to add a little, well, perspective.
I'm all for a show that brings both Khandi Alexander and Melissa Leo back to television, and the show is definitely a nice diversion from the Walker family set-chewing dinners on ABC's Brothers & Sisters.  But will we grow tired of Treme-inspired media stories about New Orleans food, jazz, and its people? Will there be a backlash, or will much of America not bother to tune in and look for a Dancing with the Stars rerun instead?
It's only the first week, and I'm sure the media will keep us posted.
Have a tip we should know? tips@mediaite.com