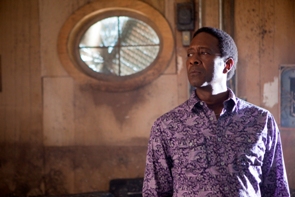 HBO's new drama Treme premieres Sunday, and for fans of David Simon and The Wire, they're anxiously anticipating this next Simon series for the network.
But Treme, about post-Katrina New Orleans, is different (here are Newsweek and the New Yorker's reviews). Mediaite spoke to one of the stars of the show, Clarke Peters (who also starred in The Wire as Lester Freamon) about filming in New Orleans, Wire comparisons and more.
Mediaite: Treme films in New Orleans, and a big focus in the show has been the music. How has it been to film in the city and become so a part of the music scene?
Peters: New Orleans is a city of food and music and it's nice to be in the center of all that.
Mediaite: When you accepted the role, were you attracted to the story of Treme, the character (Albert Lambreaux), or were you equally attracted to work with David Simon again?
Peters: I was more interested in working with David on a new project. I knew nothing about Treme. When he told me what Treme was, I began to research it. Prior to that, I said, what do you want to do next, he said, I want to do this, and I said ok.
"You'll see something that will provoke discussion, possibly debate, and see something that will make you sit down and think. It's not something neatly packaged that looks beautiful and is soft focused. I know that people will probably try to make comparisons, but what comparison can you possibly make between The Wire and Treme?"
Mediaite: What is the difference between working on this project and The Wire?
Peters: The difference is going from any show to another new show. It's more about the things that remain the same: parts of the crew, parts of the production company have remained the same. Also some of the cast. Difference is in the uniqueness of having a company of actors and production coming together. It sometimes happens in the theater. But this is the first time I've ever seen anything like this happen on television. On the set, it's the same. The pace is the same as The Wire, almost exactly the same. We don't get our scripts until maybe the day before we have to start shooting. It always adds a little frisson to everyone's energy there!
Mediaite: Is David Simon very strict about you following the script as he has written it?
Peters: Sometimes yes, sometimes no. When David Mills was here, God bless his soul, [ed. note: Mills passed away March 31.] he was on set and we were talking about particular lines that I just didn't feel were words that could fit to the character's mouth – that implied something that it shouldn't have implied. David [Simon] isn't that precious, what he's more precious about is that the story is being told, that the scene is being played, but as far as saying 'hey baby,' or 'yo baby,' he's not going to balk at anything like that. But for myself, if there's something that doesn't fit right in my mouth, I'll say that and he'll say 'let's see what you got' or throw me a new line, and that's what I love about this, because in a very small way it's a collaborative effort. They are definitely the writers, but we're in new territory here, and my character is one that is bringing to the table things that they may not have thought about, or coming from a place they may not have thought about. Besides just being a social and pleasure club the Mardi Gras Indians are a group of men that are carrying on a tradition for many, many, generations, and so that I know that David, or Eric, didn't have time to explore all of those possibilities of all the characters they have, so I'm able to bring to them the research I have found concerning the Indians and construct a theory that I might be able to put to them as to where he might move with this, or what might need to be said, or what might be interesting to be said. They know what needs to be said, I think what I'm bringing to it is what might work. Because it's a Black American experience, so there is just so much a White American is going to get from that. It would be the same thing if a Black American tried to write about the Native American experience. There's just something missing. So in that respect they've all been very generous and accommodating.
>>> NEXT PAGE: Comparing The Wire and Treme, remembering David Mills.
Have a tip we should know? tips@mediaite.com