Trevor Noah and Others Offended by Trump's Private Pussy Affair but Not Hip-Hop's Public One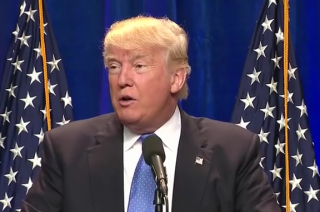 I'm sorry I just can't let another day go without addressing the faux P-word controversy. Here we go again with the liberal media freaking out over something totally irrelevant.
Donald Trump said the P-Word. So what?
Men and women say and sing the word everyday. Last week, conservative commentator Ana Navarro said "pussy" on CNN several times, evening daring another conservative pundit Scottie Hughes to be offended or outraged by her use of the word on live television. CNN liked it too because it brought in ratings.
It's not just reserved for locker room talk. The word "pussy" is etched in our lexicon. Of course sometimes it's used as a sexual reference but often times connotes many other things. Melania Trump wore a beautiful hot pink "pussy bow" silk shirt made by Gucci to the second debate. Whether it was by design or accident, it was a great choice.
Does her shirt offend people too? Many other designers sell pussy bow shirts and dresses. Shall we ban pussy bow clothing? Botanists like the word too. There's a plant called the pussy willow. Share we no longer plant it? Or shall we call it the vagina willow? Pussy Galore was a hot female character in a James Bond movie. Oh, and then there's the 1983 Bond movie OctoPussy. Men call other men "pussies" for being weak. Hey, I love pussycats. I have a big furry one . . . that is a tabby Persian cat named Maximillian. Oh, wait did I offend you?
Comedy Central's Trevor Noah was so offended by Trump's use of the word pussy that he said this: "It's not the locker room, it's you, motherfucker!" Because motherfucker is the language of choirboys in church. No, it's crude language of thugs and black hip-hop singers. Where's Noah's outrage at the army of "artists" using the word "pussy" in their lyrics?
A casual search on Spotify produced some disgusting results, more than I could to be offended by as a woman at one time. There's a "pussy poppin playlist" and songs include: Pussy is Mine by Miguel, Pussy Monster by Lil Wayne, Pussy Nigga by Gucci Mane featuring Nicki Minaj, Trap Pussy by Tyga, I Smell Pussy, by G-Unit, Pop Dat Pussy Don't Stop by Denis Phenomen and more. And this isn't even a fraction of the hundreds of songs that resulted from using the other word for vagina in the search term.
Does Trevor Noah think these artists are "mother*ckers" too for selling this trash that offends women and encourages men to talk this way to them? As a woman, I'm not proud of Trump or any man insulting women with the P-word. And I certainly don't think it should be a topic of discussion in a presidential election.
But Trump's conversation with then Access Hollywood host Billy Bush was private, guy talk as opposed to the very public use of the P-word by black male hip-hop singers to make millions off of it. Trump may have already ceded the election to Hillary Clinton because of this leaked tape. It fueled the perception among voters, especially women, whom he's losing by double digits to Hillary, that he doesn't respect them.
But let's stop pussy footing around the real issues . . . of this election, shall we? The P-word is a distraction from far more egregious behavior from Hillary Clinton, who deliberately destroyed government emails to hide information from the American people. This is the same Democrat presidential nominee who coordinated with her husband Bill Clinton to use the Clinton Foundation as a pay-to-play salesman for State Department foreign policy while Hillary was Secretary.
No, the P-word doesn't frighten me half as much as Hillary Clinton.
— —
Crystal Wright is author of the newly released book Con Job: How Democrats Gave Us Crime, Sanctuary Cities, Abortion Profiteering, and Racial Division. By day, Crystal is a communications consultant and editor and publisher of the blog Conservative Black Chick.
Follow Crystal Wright @GOPBlackChick on Twitter
— —
This is an opinion piece. The views expressed in this article are those of just the author.
This is an opinion piece. The views expressed in this article are those of just the author.