'Trillion Pieces Of Metadata': New Guardian Reports Detail More About NSA E-Mail Surveillance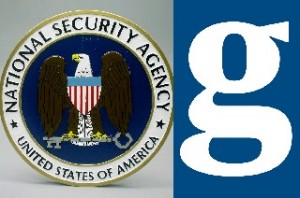 A new report on NSA surveillance programs from The Guardian detail a ten-year long program codenamed Stellar Wind that collected internet metadata in bulk, meaning that while the program did not collect e-mail content, it did the e-mail addresses of the sender and recipient, as well as IP addresses where e-mails were sent from, thereby effectively tracing the sender's location. This specific program ended in 2011, Glenn Greenwald and Spencer Ackerman report, but another report they released today shows that the NSA still has ongoing programs collecting e-metadata, including one that processed half a trillion records in the span of a single year.
RELATED: Glenn Greenwald Teases More NSA Info: 'Majority' Of 'Significant' Revelations 'Have Yet To Be Made'
Greenwald and Ackerman write that the FISA court would approve the bulk collection of metadata "every 90 days," and cite a Justice Department memo available for perusal on the Guardian website to show how the Stellar Wind program initially dealt with communications concerning people outside the United States, they "gained authority to 'analyze communications metadata associated with United States persons and persons believed to be in the United States.'"
Shawn Turner, the current director of communications for National Intelligence, provided a statement to the Guardian on the program.
"The internet metadata collection program authorized by the Fisa court was discontinued in 2011 for operational and resource reasons and has not been restarted…

"The program was discontinued by the executive branch as the result of an interagency review," Turner continued. He would not elaborate further.
However, while this particular program did end, others continued, and while Greenwald and Ackerman explain there is "no reference to any specific program currently collecting purely domestic internet metadata in bulk" in top-secret NSA documents, the Special Sources Operations division within the agency announced only last December that it had a "new capability" to be able to collect "more than half of the internet traffic it intercepts."
This particular program is referred to as the "One-End Foreign (1EF) solution," because it collects metadata where one end of the communications is from outside the United States, and the other end is from within. The program has the bizarre, palindromic nickname "EvilOlive," while another program, labeled "Shell Trumpet," was touted last December as having "processed its one trillionth metadata record."
Explaining that the five-year old program "began as a near-real-time metadata analyzer … for a classic collection system", the SSO official noted: "In its five year history, numerous other systems from across the Agency have come to use ShellTrumpet's processing capabilities for performance monitoring" and other tasks, such as "direct email tip alerting."

Almost half of those trillion pieces of internet metadata were processed in 2012, the document detailed: "though it took five years to get to the one trillion mark, almost half of this volume was processed in this calendar year".
—–
Follow Josh Feldman on Twitter: @feldmaniac
Have a tip we should know? tips@mediaite.com
Josh Feldman - Senior Editor