Truck Full of Frozen Chicken Collides with Truck Full of Bees, Bursts into Flames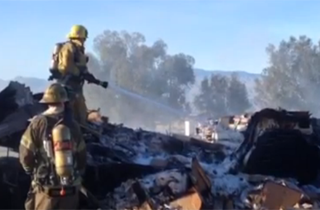 Drivers attempting to go down I-10 West will run into delays thanks to the most terrifying automobile accident in recent history: a truck full of frozen chicken collided with a truck full of godforsaken bees, and everything caught on fire.
The Desert Sun reported that chicken legs, flaming diesel fuel, and "thousands of bees" spilled onto the highway, and traffic near Palm Springs was backed up as emergency responders attempted to get the flaming debris of the chicken truck off the interstate.
One driver is being treated for minor injuries, and the California Highway Patrol says that it should take them some time for them to clear the fuel, debris, and chunks of burning chicken off the highway. "I don't think the bees are causing the problem," CHP Officer Stephanie Hamilton told the Sun.
Sad footnote: many of the drivers on I-10 West are despondent Seattle Seahawks fans coming back from the Super Bowl in Glendale, a mere three hours away from the horrible chicken-bee hellhole. "It's sort of adding insult to injury," Seahawks fan Stanley Payne told theSun. "I was so upset last night, and the drive home isn't much better."
At least the Sun's reporter got a honey barbecue surprise, which would be tasty except for the fact that it was cooked by an auto accident:
A close up of the barbecued chicken @MyDesert pic.twitter.com/0G9CFMVmYK

— TDSColinAtagi (@TDSColinAtagi) February 2, 2015
See footage of the bee-chicken carnage below at the Desert Sun's website.
[The Desert Sun]
[Image via screenshot/The Desert Sun]
—
>> Follow Tina Nguyen (@Tina_Nguyen) on Twitter
Have a tip we should know? tips@mediaite.com