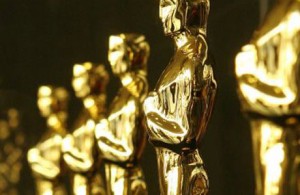 "In recent years, there has been a disturbing dissonance between Oscar voters and movie-goers when it comes to top nominations. Many of the best picture nominees just never caught on at the box office," says The Hollywood Reporter. At the top of the list are two movies – True Grit and The Social Network –  that have attracted and delighted audience that are now vying for supremacy in the eyes of the Academy Awards voters. Last week, Grit pulled ahead in box office totals, but Social Network has been the favorite thus far among major critics' awards. Because of the late momentum Grit has generated at the box office, Social Network will be re-released in theaters.
Naturally, there are supporters of each. The New York Times' Gail Collins goes for Social Network because she is "in awe that people could make an enjoyable film about the start-up of a Web site," while her colleague David Brooks chooses Grit "on the basis of the young girl at the core of the movie." So which film has the edge in this competition?
True Grit appeals to all: "I like the movie fine, and you're welcome to like it too. But there's a subset of older fans who want us to know — aggressively, emphatically, citing chapter and verse — exactly why The S.N. is such a great movie, an important movie, a movie for our times, says Karen Stabiner in the Los Angeles Times. We should likewise ask whether younger movie fans will even watch True Grit. Call it a "remedial exercise," because it acts as the "antecedent" to The Social Network's "glossy and gee-whiz fun." At a time when "everything is instantaneous," Grit is "the cinematic equivalent of the Slow Food movement, and just as tasty."
Actually, Social Network does, too: Who knew that "the origin of the massive digital domain was a complex and layered tale worthy of our attention," says Daniel Hubschman in the New York Post. It has a lot more going for it, too, with an "extraordinary cast and crew" who al shine. "Rarely can a movie be both specific and universal in its themes, but The Social Network is at once about a band of misfit geniuses who stumbled upon fame and fortune and an entire generation of young adults reaching for its piece of the American Dream." That's a solid recipe for the year's best movie.
Maybe there's room for an outsider yet: "True Grit will definitely get a boost from being the last, most-talked about movie, and probably from being the film Academy members took their families to see in theaters over the holidays," says John Lopez in Vanity Fair. And while some argue Social Network is "too dark for the Academy," it is still the "'It' film of the moment." Voters and critics are rightfully scrutinizing and examining the virtues that the two films extoll. "So, which does the Academy prefer: nobility quietly extolled, or tragedy lamented with bravado? Who knows, maybe it will be The King's Speech after all."
Have a tip we should know? tips@mediaite.com