Trump Admits He's Not a Fan of Electoral College, Would 'Rather Do the Popular Vote'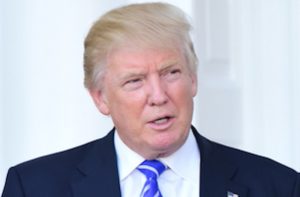 Donald Trump won the presidency outright in the electoral college, while losing the popular vote (by a somewhat significant margin as of now). And he admitted today he's not a big fan of the system as it currently exists.
There is currently a petition on Change.org––pushed by celebrities like Lady Gaga––demanding that the electoral college overturn the results and make Hillary Clinton president. Now, the chances of that happening are infinitesimally small, but there are already some rumblings from electors who want their colleagues to step up.
In addition, there's a piece in The Atlantic this week titled "The Electoral College Was Meant to Stop Men Like Trump From Being President."
But on top of all that, Trump himself today admitted that he would prefer the popular vote system and thinks he would have done better under that circumstance:
"We had a great victory," Trump says. "I'll see every once in awhile someone says, 'Well, the popular vote.'"

— Maggie Haberman (@maggieNYT) November 22, 2016
"I'd rather do the popular vote," Trump says. "I think we'd do as well or better." Says he was "never a fan of the electoral college."

— Maggie Haberman (@maggieNYT) November 22, 2016
That being said, he did acknowledge the merits of the system:
Adds: "Until now." Also says Electoral College "gets you out to" see states you wouldn't otherwise.

— Maggie Haberman (@maggieNYT) November 22, 2016
Without EC "You wouldn't leave New York," Trump says.

— Maggie Haberman (@maggieNYT) November 22, 2016
[image via a katz/Shutterstock]
— —
Follow Josh Feldman on Twitter: @feldmaniac
Have a tip we should know? tips@mediaite.com
Josh Feldman - Senior Editor