Trump Blasts Wall Street Journal in Tweetstorm: Those Dummies Should Apologize!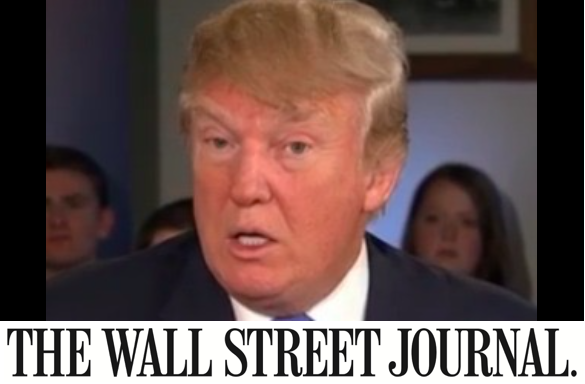 Donald Trump's relationship with The Wall Street Journal has been rocky lately, having warned them that he'll "unleash big time" if they continue to criticize him. As it turns out, the Journal published an editorial this morning that scrutinized his ideas and performance from the GOP debate, and he responded in the way he does best.
The piece specifically examined his remarks on the Trans-Pacific Partnership trade deal, where it said that for all of Trump's talking point of it being a "terrible deal," he never offered solid proof that he knows anything about it. They specifically pointed to Rand Paul's moment where he shut down Trump's rant on China's currency manipulation by reminding him that they were not part of this deal. The article also questioned the wisdom of his ideas to start a trade war with China that could lead to raised prices and a smaller influence on Asian economics.
Of course, for daring to question him, Trump emptied the clip on them via Twitter:
Today's @WSJ Editorial is WRONG again. I know that China is not in the new T.P.P. trade deal but would come in latter through a back door.

— Donald J. Trump (@realDonaldTrump) November 12, 2015
.@WSJ Editorial Board should review my debate statement re China and T.P.P. and apologize. China not part but will get their way in later. — Donald J. Trump (@realDonaldTrump) November 12, 2015
The @WSJ Editorial Board is so wrong, so often. They got info from an incorrect story in another pub. Why not watch and listen to debate.

— Donald J. Trump (@realDonaldTrump) November 12, 2015
When and how are the dummies at the @WSJ going to apologize to me for their totally incorrect Editorial on me. I want "smart" trade deals. — Donald J. Trump (@realDonaldTrump) November 12, 2015
Why wouldn't the @WSJ call for comment or clarification before writing an editorial which is so totally wrong. No wonder it is doing poorly!

— Donald J. Trump (@realDonaldTrump) November 12, 2015
Why does the failing @WSJ write a false editorial about me and let dummy @KarlRove make the same mistake in the same edition of the paper? — Donald J. Trump (@realDonaldTrump) November 12, 2015
Trump also took a moment to slam them during a phone interview with Fox & Friends, when he ranted that about how "there's so much misinformation, but you would think that a paper like The Wall Street Journal would call for clarification. But they don't do that, they just write. That's why they're not a respected paper too much anymore,"
[Image via screengrab]
— —
>> Follow Ken Meyer (@KenMeyer91) on Twitter
Have a tip we should know? [email protected]