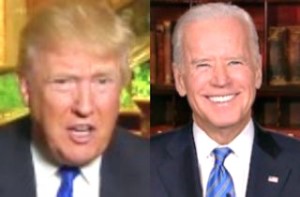 Donald Trump told Breitbart on Friday that with the renewed controversy surrounding her email scandal, he doubts he will face Hillary Clinton in the general election. Instead, Trump reference the recent rumors by saying he thinks Vice-President Joe Biden will enter the race and take over when Clinton is forced out.
"It just looks like Hillary is going to not be able to run. It looks to me like that's what's going to happen," Trump said. "" think Hillary has got huge problems right now. I'm just looking at it saying what the hell was she doing? You know what she was doing. She was guarding from the president seeing what she doing."
Trump also brought up his signature reference to David Petraeus, again arguing that Clinton's private server use and denial were much worse than the ex-CIA director's sharing of classified information with his mistress.
"What she did is ten times worse," Trump said. "It destroyed him, so I don't see how she's going to possibly be able to run."
Trump touched on issues ranging from his poll numbers to his continued disdain for politics as the interview went on, but he also promised that soon, at last, he will start to go into policy:
We'll be talking about healthcare policy. We have some really excellent things to come out. I'm already discussing military and plans. With all of that being said, in the real world, you don't just roll things out. You go out and you negotiate back and forth. It's a tug of war back and forth with all of these different people you have to get on board. So rolling anything out is a lot different than going in and getting everybody together. It's called leadership.
[h/t Talking Points Memo]
[image via screengrab]
Have a tip we should know? [email protected]