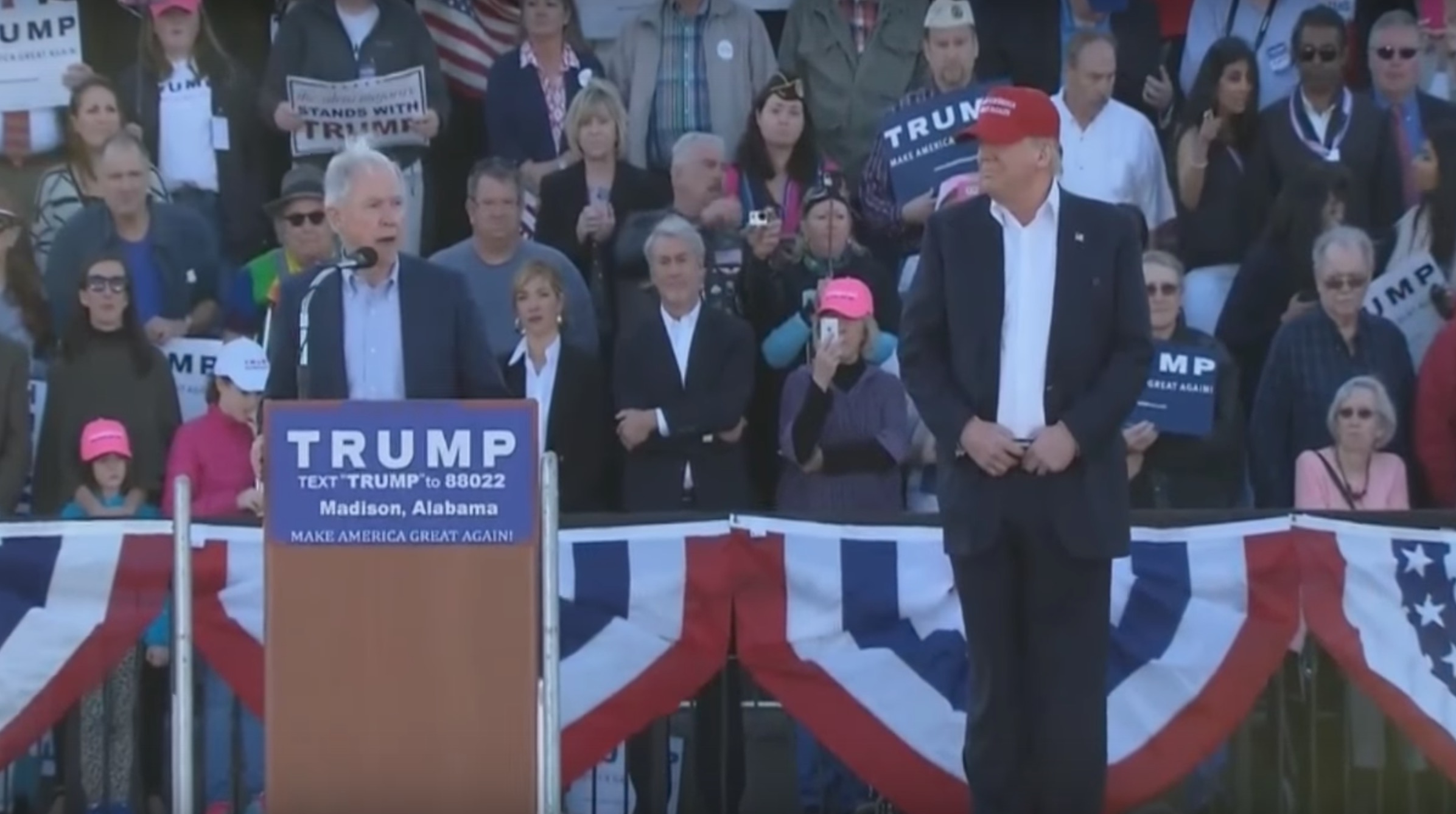 President Donald Trump gave an interview to The Wall Street Journal on Tuesday, in which he discussed his thoughts on the fate of Attorney General Jeff Sessions, who he has repeatedly and publicly bashed for recusing himself from the Russia investigation.
Many commentators have pointed out that Sessions, despite angering the president over his recusal, has been particularly loyal to the president since he was one of the first prominent lawmakers to throw his support behind Trump's long-shot bid for the presidency.
But Trump apparently doesn't see things that way, implying in his interview with the Journal that Sessions only backed his campaign in February 2016 because of his crowd sizes:
"When they say he endorsed me, I went to Alabama," Trump told the Journal. "I had 40,000 people. He was a senator from Alabama. I won the state by a lot, massive numbers. A lot of the states I won by massive numbers. But he was a senator, he looks at 40,000 people and he probably says, 'What do I have to lose?' And he endorsed me. So it's not like a great loyal thing about the endorsement. But I'm very disappointed in Jeff Sessions."
That remarkably bitter swipe is likely to anger Sessions, who is already "totally pissed off about" the situation, according to reports.
"It's not like a great loyal thing about the endorsement," Trump also said. "I'm very disappointed in Jeff Sessions."
Though the president declined to say whether he intended to fire the attorney general, he reiterated his frustration with his recusal from the Russia probe, and belief that decision led to the appointment of special prosecutor Robert Mueller — whose investigation he has repeatedly derided as a "witch hunt."
When asked how long he planned to criticize Sessions without firing him, Trump told the Journal "I'm just looking at it," before adding "I'll just see. It's a very important thing."
After the interview, Trump was asked repeatedly in a press conference with the Lebanese prime minister about the fate of his attorney general, and again slammed Sessions, this time for not aggressively going after leakers — while leaving open the possibility that his days at the Department of Justice are numbered.
[image via screengrab]
—
Follow Aidan McLaughlin (@aidnmclaughlin) on Twitter
Have a tip we should know? tips@mediaite.com
Aidan McLaughlin - Editor in Chief