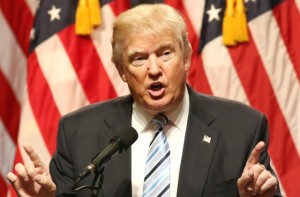 It's nauseating to watch female staffers working for Republican presidential candidate Donald Trump act as his political pimps: bashing women who have accused him of sexual harassment. Defending locker room talk is one thing, defending what's emerging as a predatory presidential candidate is a whole other story. An avalanche of former Miss USA and Miss Teen pageant contestants have come forward describing Trump "waltzing into dressing rooms of naked or half-naked" women, when they were in a very vulnerable position.
Female (emphasis on gender here) campaign manager Kellyanne Conway became the lead apologist for her boss's alleged behavior. In an interview with CNN anchor Brianna Keilar about accusations by contestants, Conway said that because she's never been in beauty pageants, "I don't know how you want me to comment on it Brianna without any type of credible voice."
Well, I'd like Conway to comment on it as a woman and mother, and wonder if she'd like a man storming in on her like a horny stud racing into a field full of mares? As a woman, Conway should have said that while these are allegations, it's never appropriate for a man to sexually harass women — ever. (Even if he is the owner of the pageants.)
"I'll go backstage before a show and everyone's getting dressed and ready and everything else and you know no men are anywhere. And I'm allowed to go in because I'm inspecting it," Trump bragged in a 2005 radio interview with Howard Stern.
"And you see these incredible looking women and I sort of get away with it," Trump added.
Not only are former Miss USA pageant contestants making these claims against Trump, but so are some of the young women who competed in Miss Teen USA. Ew! According to BuzzFeed, five women who competed in the 1997 Miss Teen USA contest described Trump visiting the "women's locker room."
One who asked to be anonymous told BuzzFeed: "At the time, you're a teenager, you're intimidated — it's Donald Trump, he runs the pageant… We were all very young, but even at the time, it caught us funny." Now, "as an adult and as a mother," she said she finds it "absolutely inappropriate," she added.
Instead of excoriating sexual harassment in general and standing up for victims, Trump's female campaign staffers are doubling down to defend Daddy Donald. And to watch it is disgusting.
Appearing on MSNBC, senior Trump advisor A.J. Delgado said "any reasonable woman" would have aired these allegations years ago. She went on to accuse the women of lying to help elect Hillary Clinton (ironically — a very Cintonesque tactic).
"And the truth is that victims of sexual assault, victims of rape, victims of unwanted groping, they often don't come forward. They're humiliated, especially back in the day. They were told move along, it happens to all women, you've got to take it. It's a complicated issue," observed Fox News' Megyn Kelly on the latest allegations against Trump.
Kelly would know, as she alleged that former Fox News CEO Roger Ailes sexually harassed her on numerous occasions.
"As a woman, I'm livid having read this. Not only are these accusations simply not credible but also it's disgusting that the New York Times is trivializing sexual assault this way. I take great offense at that, as a woman," Delgado said.
Let me be clear — as a woman who has supported Trump — I'm beginning to take great offense at his candidacy and the women acting as prostitutes for his message. Trump is making Bill Clinton look like a choirboy, and I never thought another man running for president could top Bill's sexual perversion. To say Trump doesn't have the temperament to be president may be an understatement.
— —
Crystal Wright is author of the newly released book Con Job: How Democrats Gave Us Crime, Sanctuary Cities, Abortion Profiteering, and Racial Division. By day, Crystal is a communications consultant and editor and publisher of the blog Conservative Black Chick.
Follow Crystal Wright @GOPBlackChick on Twitter
— —
This is an opinion piece. The views expressed in this article are those of just the author.
[image via Shutterstock]
This is an opinion piece. The views expressed in this article are those of just the author.