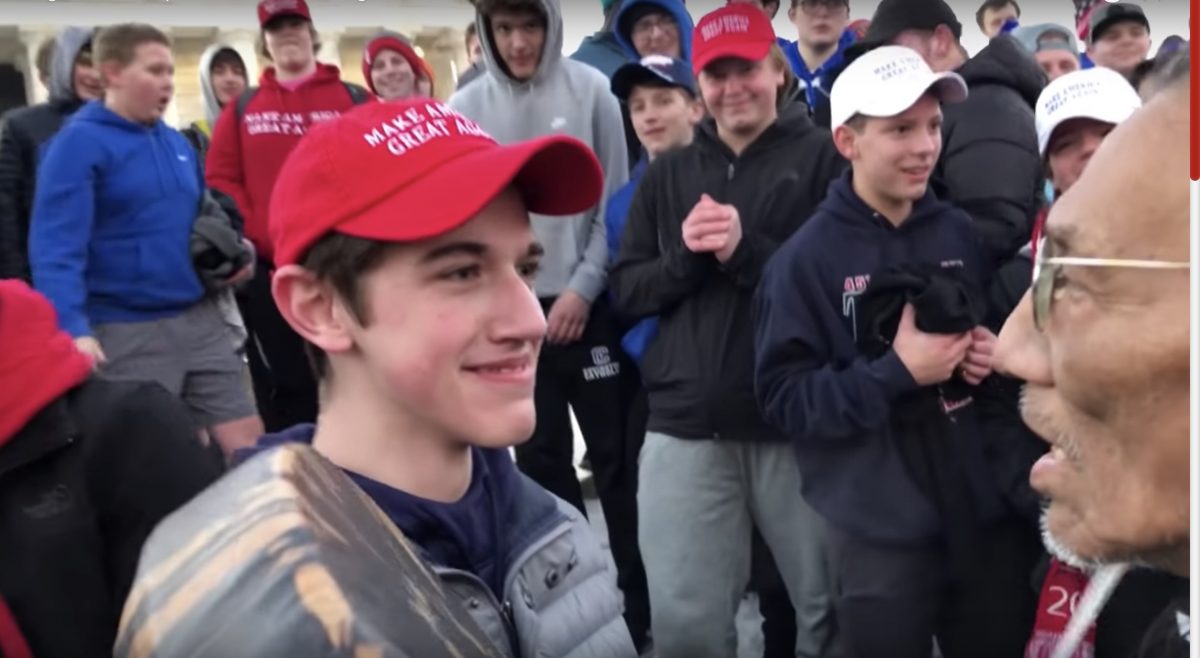 President Donald Trump opined on Twitter about the weekend controversy that involved students of Covington Catholic High School and Omaha tribal elder Nathan Phillips.
A viral video of a confrontation between a MAGA hat wearing student Nick Sandmann and the Native American protestor is just another example of the Rorschach test age in which we find ourselves.
Critics of the Trump administration and the "Make America Great Again" ethos see a smirking and disrespectful teen (as was widely first reported on various cable news outlets) while those who believe in a biased media see an unfair portrayal that targets white boys who believe that life begins at inception. (Plot twist: maybe there is truth to both reactions?)
Just minutes after  President Trump's favorite cable news program Fox & Friends aired an interview with a chaperone during the Covington Catholic trip,  Trump tweeted the following:
Nick Sandmann and the students of Covington have become symbols of Fake News and how evil it can be. They have captivated the attention of the world, and I know they will use it for the good – maybe even to bring people together. It started off unpleasant, but can end in a dream!

— Donald J. Trump (@realDonaldTrump) January 22, 2019
It is entirely fair to say that the initial portrayal of Sandman and his classmates did not tell the entire story. And anyone that watched much of the raw footage from the weekend protest can plainly see that the real villains were the Black Hebrew Israelites who insulted the kids with the over-the-top invective that only deserves to be ignored as ignorant trolls should be treated.
But it's also fair to say that the pack of boys that surrounded Phillips after he approached them with the drum were not as pure as the driven snow either. And the chaperones who were with the kids appeared to be derelict in their duty by choosing not to diffuse a tense situation in what some may say as irresponsible manner. In defense of the chaperones and kids from Kentucky, it is hard to immediately know how to react to the sort of invective that was hurled upon them by the Black Hebrew Israelites.
Nonetheless, the Commander in Chief rather predictably took the side of the MAGA clad kids as symbols of how evil "Fake News" can be before suggesting how this unpleasant story might "even bring people together."
Have a tip we should know? tips@mediaite.com
Colby Hall - Founding Editor