Trump On His Failed Show About Saving Party Girls: It's 'Genius and the Show Will Be Huge'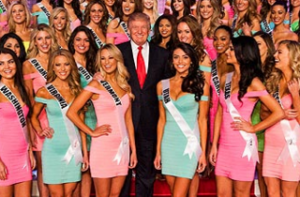 All day, we've been talking about political infidelity scandals, so why not bring up Ashley Dupré (the woman at the center of the Eliot Spitzer case) to bring it all full circle? That's who Donald Trump wanted at the center of his proposed show, Lady or a Tramp, which was all about scouring clubs for "rude and crude" girls and then turning them into respectable ladies.
Back in 2007, Trump was super into this idea, according to The Slot. (So were the people at Vh1, who beat him to the punch and released Charm School, which had a nearly-identical plot but, unlike Lady or a Tramp, actually made it onto TV.)
There are plenty of reports from that era out of major news outlets to verify that the show really was something that was going to happen, though some claim the show was headed for MTV while others said Fox. The Post put the appeal like this:
Hollywood's bad girls are all over the media right now and the show is a sure bet to tap into the public fascination with rich kids gone sour – and the unspoken desire to bring them back to the wholesome life.
For his part, Trump believed it was going to be a massive success. He said, "This show is all about getting a second chance and transforming for the better; the idea is genius and the show will be huge."
The show got far enough along the production pipeline to have a casting call. According to Variety, this is what it said:
Though the show is still in development, casting for the girls is under way. A casting notice described potential contestants as "rude and crude party girls" and as "younger women who are 18-30, love to party and full of attitude."
All of this happened — or rather, didn't happen — after NBC dropped The Apprentice from its line-up. (The first time, not the second.)
[image via screengrab]
For more from Lindsey, follow her on Twitter.
Have a tip we should know? tips@mediaite.com