Trump Once Claimed 'Any Girl You Have, I Can Take From You' in Interview Fight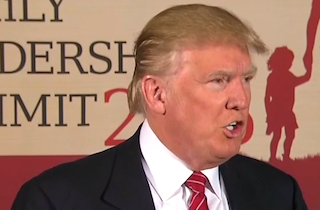 As Donald Trump presses on with his 2016 campaign, media figures continue to look into his past, having discovered several bizarre or unflattering statements from him already.
The Daily Beast previously reported that Trump's ex-wife Ivana said that he once made her feel "violated" during sex, and on Sunday, they released an article about how once reportedly bragged about "stealing" the girlfriend of New York Daily News writer and E! host, A.J Benza.
The incident began in 2001 when Benza appeared on The Howard Stern Show, and he brought up how model Kara Young left him for Trump. Later in the show, Trump called in, saying that he was not aware that Young was dating Benza at the time, but as the dialogue progressed, he added, "A.J., I won your girlfriend. You know it, she knows it, and everybody knows it."
Benza did not take this very well, and the discussion soon dissolved into a verbal food-fight as Benza and Trump fired away at each other. As things climaxed when Benza said "I can't wait 'til [Ivanka Trump] gets a little older for me," Trump emphatically declared that Young never cared about him.
"A.J., any girl you have, I can take from you if I want," Trump said. "You're full of shit. So any girl you have, I can take. That I guarantee. And that was proven before."
Young was eventually contacted by Stern's staff, and could only express her surprise that they could've fought over something that happened years ago. Trump pressed her to admit that she left Benza for him, but all that Young had to say was "I think it's sad that two grown men are doing this."
You can listen here:
[image via screengrab]
— —
>> Follow Ken Meyer (@KenMeyer91) on Twitter
Have a tip we should know? [email protected]