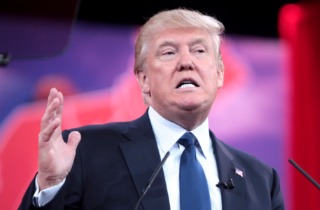 Donald Trump might be about to change course on the issues again, this time after getting called out on it less than 24 hours ago.
For his anti-terror platform, Trump has repeatedly floated the revival of water-boarding, as well as calls for more extreme interrogation practices. Bret Baier questioned Trump about his commander-in-chief capabilities during last night's debate when he asked about the military personnel who have promised to refuse orders on torture that violate international laws on war.
The Donald assured that the military would follow his orders no matter how illegal they think they are, saying, "if I say do it, they're going to do it." However, the Wall Street Journal published a statement they received from Trump that offers a significantly more restrained approach to the issue:
"[I would] use every legal power that I have to stop these terrorist enemies. I do, however, understand that the United States is bound by laws and treaties and I will not order our military or other officials to violate those laws and will seek their advice on such matters. I will not order a military officer to disobey the law. It is clear that as president I will be bound by laws just like all Americans and I will meet those responsibilities."
Former CIA director Michael Hayden is among the national security officials who have published statements against Trump. They argue that he is "unfit" to be commander-in-chief and that they will not carry out orders like killing the families of terrorists that would violate the Geneva Conventions.
[image via screengrab]
Have a tip we should know? tips@mediaite.com