Trump Ripped by Critics for Blaming 'Fake News' for Bomb Threats: 'This Is Not Unity'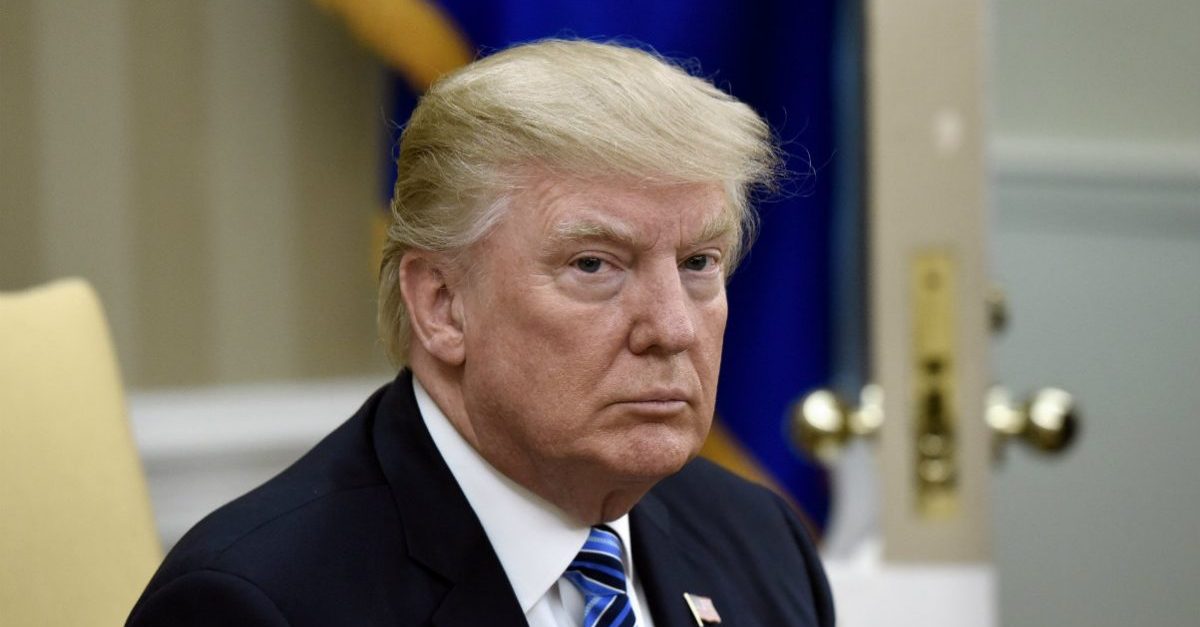 Donald Trump is generating new outrage today by blaming the media for the multiple bomb scares that have gripped the country this week.
The president is back on Twitter, saying the "fake news" media is to blame for "anger" caused around the country by their "false and inaccurate reporting." Trump hasn't said anything on Twitter yet to condemn the attempted bomber, nor the fact that perpetrator's suspicious packages have created emergency situations for the media, top Democrats and multiple public figures.
A very big part of the Anger we see today in our society is caused by the purposely false and inaccurate reporting of the Mainstream Media that I refer to as Fake News. It has gotten so bad and hateful that it is beyond description. Mainstream Media must clean up its act, FAST!

— Donald J. Trump (@realDonaldTrump) October 25, 2018
Since Trump's tweet comes just after Robert De Niro became the latest person to be targeted by a suspicious package, the president's critics are slamming him in droves. Most of them are either ripping Trump for his insincere calls for unity yesterday, while others are accusing him of blaming the victims for their own situations.
Several responders to Trump's tweet work for CNN, which had to evacuate their New York building yesterday after receiving once of the mailed bombs.
We do not report "purposely false and inaccurate reporting". We cover the news and report the facts as we did yesterday and continue to do today. https://t.co/V3aXsWRl81

— Jim Sciutto (@jimsciutto) October 25, 2018
Trump last night: "And by the way, do you see how nice I am behaving tonight? Have you ever seen this? We're all behaving very well, and hopefully we can keep it that way. We're going to keep it that way."

"Hopefully we can keep it that way" lasts less than 12 hours. https://t.co/llakdtaOMf

— Dan Merica (@merica) October 25, 2018
This from the head of the US government today. The same morning an 8th suspected bomb was found in NYC. SERIOUSLY! https://t.co/GhVX1XKoqW

— Kate Bolduan (@KateBolduan) October 25, 2018
This doesn't sound like the call for unity and civility delivered yesterday from the East Room… https://t.co/Awb4xwzlTH

— Jeff Zeleny (@jeffzeleny) October 25, 2018
False. And dangerous. https://t.co/icBwjganxB

— Chris Cillizza (@CillizzaCNN) October 25, 2018
But the criticisms were not exclusively from CNN:
He did it. Again. He blamed the media after someone tried to kill prominent democrats and media figures.

This is not unity. https://t.co/vz8xTMQgLK

— Bradley P. Moss (@BradMossEsq) October 25, 2018
From the man who blamed "both sides" when a white supremacist killed an innocent. https://t.co/BcdOCgXHNt

— Noah Shachtman (@NoahShachtman) October 25, 2018
A day after CNN had to evacuate because someone sent a bomb to its studios, Trump doubles down on attacking the press. Beyond words disgusting. Remember, in January, a dangerous nutcase called CNN 22 times and told them he was going to kill them all because they were "fake news." https://t.co/nW2LiGpzqd

— Brian Klaas (@brianklaas) October 25, 2018
Trump blames the victims. Says nothing about the person making the bombs. https://t.co/7o1l2kpjTe

— Jim Roberts (@nycjim) October 25, 2018
A demagogue's gonna demagogue. https://t.co/6EDWTZ7a5X

— Bill Kristol (@BillKristol) October 25, 2018
The expiration date on the "new tone" was, what? One news cycle? half a news cycle?
He.Will.Never.Pivot.People. https://t.co/24x2mr0Ejo

— Charlie Sykes (@SykesCharlie) October 25, 2018
Rather than preaching unity, Trump seems to be pinning some of the blame on the media for the divisive atmosphere that may have motivated the creation of these explosives https://t.co/K3SbsV6Jca

— Jonathan Lemire (@JonLemire) October 25, 2018
[Photo via Getty Images]
— —
>> Follow Ken Meyer (@KenMeyer91) on Twitter
Have a tip we should know? tips@mediaite.com