Trump Says He Doesn't Know Putin, But He Used to Say He Knew Him 'Very Well'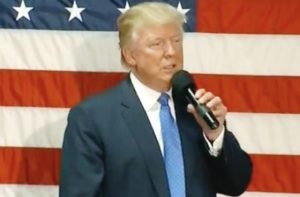 During the second presidential debate Sunday night, Donald Trump said "I don't know Putin."
But a little over a year ago, he stood on another debate stage and said, "I got to know him very well."
During the Republican primary last November, Trump said that he and Putin became close because they appeared on 60 Minutes together. He said:
But, as far as the Ukraine is concerned, and you could Syria — as far as Syria, I like — if Putin wants to go in, and I got to know him very well because we were both on 60 Minutes, we were stablemates, and we did very well that night.
This is not the first time Trump has tried to rewrite history about whether or not he knows Putin.
"I have nothing to do with Russia," Trump said in an interview with a CBS affiliate. "I never met Putin, nothing to do with Russia."
But in 2013, MSNBC's Thomas Roberts asked Trump,"Do you have a relationship with Vladimir Putin? A conversational relationship or anything that you feel you have sway or influence over his government?"
Trump responded:
I do have a relationship and I can tell you that he's very interested in what we're doing here today He's probably very interested in what you and I am saying today, and I'm sure he's going to be seeing it in some form.
In July, Trump explained what that "relationship" entailed:
[H]e has said nice things about me over the years. I remember years ago, he said something, many years ago, he said something very nice about me. I said something good about him when Larry King was on. This was a long time ago. And I said, "He is a tough cookie," or something to that effect. He said something nice about me. This has been going on.
—
Sam Reisman (@thericeman) is a staff editor at Mediaite.
Have a tip we should know? tips@mediaite.com