Trump Spends 47 Useless Minutes on Fox & Friends Phone Call While Florida Recovers From Devastating Hurricane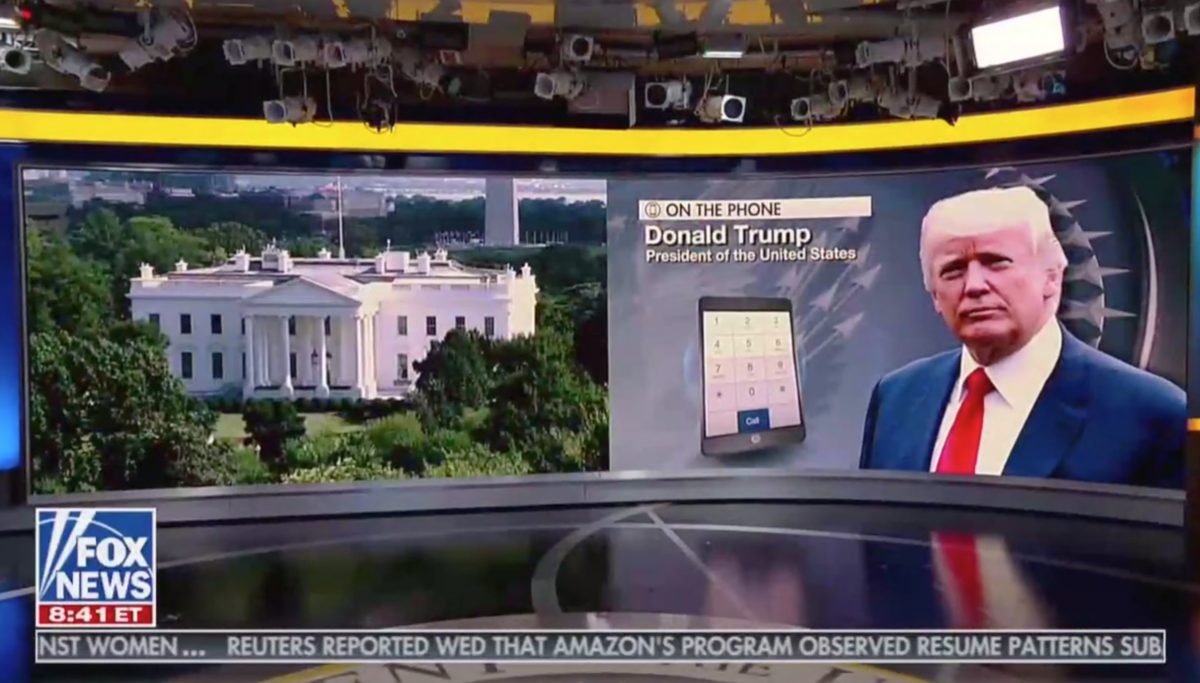 President Donald Trump has repeatedly defended his decision to host a political rally in Erie, Pennsylvania on Thursday, the same day Hurricane Michael was battering the Florida panhandle with record wind speeds.
But perhaps a better question to the Commander in Chief is how he can rationalize spending nearly an hour — the morning after his rally — in a softball interview with his favorite television program, morning show Fox & Friends? If only one of the hosts had the temerity to ask Trump that very question. Though, to be fair to Steve Doocy, he cheerfully ended the interview by warmly instructing Trump to "go back to running the country!"
It was an unintentionally embarrassing moment for all involved.
Yesterday saw a catastrophic category four hurricane hit the Florida panhandle, the ravages are just now being revealed with daylight. The breadth of federal resources necessary to search, rescue and rebuild is still unclear as the disaster is still a very fluid and urgent situation.
And how is President Trump dealing with this emergency? By spending a whopping 47 minutes on a phone call with his favorite television program Fox & Friends, taking time out as Commander in Chief to defend his presidency against "haters," sharing birthday wishes to the father of co-host Ainsley Earhardt, railing against the New York Times for the anonymous op-ed published a month ago, lamenting the "billions" he has lost since becoming president. Not what one might call the best use of his "executive time."
Since Hurricane Michael made landfall yesterday, Trump has been incredibly busy. He held a fundraiser, followed by an hourlong campaign rally. He gave an interview to Salena Zito of the Washington Examiner. Wednesday night, he called into Fox News for an interview with Shannon Bream. Then Thursday morning came his rambling chat with Fox & Friends.
Trump — and his loyal media advocates — love to portray him as an active manager of the executive branch, a president who is control of all facets of the federal government.
But critics see that as a fictionalized mythology, similar to the notion that he is a wildly successful and self-made businessman — one that has actually filed bankruptcy multiple times and inherited over $400 million in today's dollars from his father.
But if in fact Trump is so actively involved in his government, how does he (and his communications team) rationalize spending nearly an hour of his time in a convivial chat about the political issues of the day? Rather obvious to say, but it's clear from this (and nearly any other interview) that Trump is far more concerned with the media than taking care of those in need in Florida.
It's certainly not an optic that 2012 Trump would accept as presidential.
Yesterday Obama campaigned with JayZ & Springsteen while Hurricane Sandy victims across NY & NJ are still decimated by Sandy. Wrong!

— Donald J. Trump (@realDonaldTrump) November 6, 2012
In fairness, and by any objective measure, Hurricane Michael caught a lot of people off-guard. The speed and power in which it hit the Florida panhandle appeared to surprise many in both government and the media, perhaps cynical by the relatively underwhelming effects of the Labor Day hurricane.
But if anyone should be aware of the situation in Florida, it would be the federal government. And the White House appears to continue to misplace its concern.
In short, the White House communications team should be embarrassed by this public relations faux pas. But they won't be because Trump will almost certainly get a pass. Call it a new version of a soft bigotry of low expectations, but Trump is curiously held to a much lower standard of presidential behavior than his predecessors.
President George W. Bush was notably crucified for his reaction to Katrina. President Barack Obama was consistently vilified by Fox News for….well, being Barack Obama.
President Trump should get politically dinged for this. And he will from predictable sources. But Fox News will give him a pass, because they are in the tank. And if Fox News isn't going to be critical, Trump's base will continue to be ignorant of even reasonable critiques.
This is an opinion piece. The views expressed in this article are those of just the author.