Trump Supporter Sen. Jeff Sessions Struggles to Explain Trump's Reversal on Defeating ISIS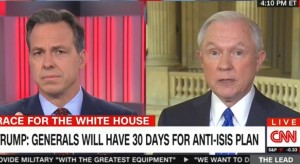 In what has become a familiar pattern, a Trump surrogate insisted that the candidate completely changing his position was not actually the candidate completely changing his position.
Specifically, on Wednesday afternoon CNN's Jake Tapper asked Trump adviser Sen. Jeff Sessions to explain why Trump was insisting now that he'd give generals 30 days to produce a plan to defeat ISIS, when he had previously asserted both that he had a "foolproof" plan to defeat ISIS and also that he knew more than the generals did. Sessions accused Tapper of "having fun" with his straightforward line of questioning.
"I don't think he ever doubted that he'd be talking with the generals on how to achieve [his goals]," Sessions said.
"Yeah, but he said he had a plan. He said he had a foolproof plan. And now he is saying, today, generals are going to come up with a plan," Tapper said. "So did he not have a plan to begin with? Or did he not think that these generals whom he's said don't know much, are gonna come up with a better plan than he concocted?"
Sessions simply repeated that "we're gonna defeat ISIS" and that "Donald Trump was committed to that." When Tapper asked for clarification, Sessions said that the anchor was simply "having fun with [his] argument."
"Look I'm not having fun with it," Tapper said. "He said something and now he said something that seems to contradict it."
You can view the exchange above, via CNN.
—
[image via screengrab]
Sam Reisman (@thericeman) is a staff editor at Mediaite.
Have a tip we should know? tips@mediaite.com