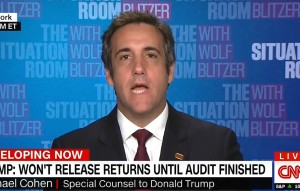 Trump's Special Counsel Michael Cohen did not answer direct questions on CNN Thursday night about the presidential candidate's refusal to release his tax returns, retreating instead to familiar excuses about Trump's supposed ongoing audit and the media.
"I personally will not allow him to release those tax returns until the audits are over," he said. He affirmed that he would not even release the tax returns for the years that are not presently under audit.
Cohen noted that some lawyers would advise Trump to do the same, or else risk malpractice. However, Cohen did not acknowledge that Trump was a person running to be leader of the free world, and therefore there was a significant public interest — not to mention 40 years of precedent — that might compel Trump to reveal whether or not he has been forthcoming with the American public about his finances.
As Newsweek recently reported, Trump has actually produced no evidence from the IRS that he is even under audit. When Wolf Blitzer challenged Cohen on this point, the attorney deflected. By way of explaining why Trump would not produce proof that he was under audit, Cohen said, "C'mon Wolf, the man's telling you he's under audit."
Clinton had a far worse record on veracity and honesty, Cohen said. He observed that "everyone in the media attacks Mr. Trump."
As the interview concluded, he chided Blitzer for not asking "serious" questions.
"These are serious questions, Mike. He wants to be President of the United States," Blitzer responded.
Cohen said "There's only one man whose mantra is 'Make America Great' and 'Make America First.'" It is true that Trump is the only candidate using those slogans (in this election anyway).
—
Sam Reisman (@thericeman) is a staff editor at Mediaite.
Have a tip we should know? tips@mediaite.com