Trump's Lawyers Request Delay in Trump U Fraud Case, Citing 'Critical and All-Consuming' Job Prep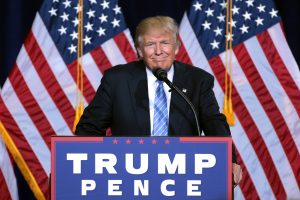 President-elect Donald Trump has been scheduled to appear on November 28th in a civil suit stemming from his Trump University fraud case in New York City.
But now, his legal team is requesting that a judge delay the case until after the January 2017 Inauguration, citing the time between now and then as "critical and all-consuming."
Former students of Trump University, the for-profit real estate and business development school operated by the real estate mogul for several years, have called the curriculum a "fraudulent scheme." The school used to tout "hand-picked instructors," to lead the costly classes, and the pressure was ratcheted up against Trump U earlier this year. The New Yorker wrote at the time, "The alleged scam didn't stop there. Trump University instructors told people who attended the three-day seminars that this wasn't enough time to learn how to succeed, and encouraged them to purchase additional 'mentorship' programs, which cost up to thirty-five thousand dollars."
In court documents that were filed this weekend, Trump's lawyers wrote, "Now that the election is over, we submit that the President-elect should not be required to stand trial during the next two months while he prepares to assume the Presidency. The time and attention to prepare and testify will take him away from imperative transition work at a critical time."
Instead, they argue, any involvement from Trump in the case should wait until after the Inauguration, though they don't indicate how his time or commitments would somehow be less demanding once he's actually President. One option however would be to have Trump appear via a taped video testimony about his knowledge and contributions to the alleged scam.
Eric Schneiderman, the New York Attorney General, is suing Trump for $40 million, alleging that Trump University fell short in its promise to deliver job readiness education.
The letter from Trump's legal team continues, "The 69 days until inauguration are critical and all-consuming. President-Elect Trump must receive daily security briefings, make executive appointments (ultimately, thousands), and establish relationships with appointees, members of Congress, governors, and foreign leaders. He must also develop important policy priorities."
[h/t NBC News]
[image via Gage Skidmore, Flickr]
Have a tip we should know? tips@mediaite.com