Oliver Reveals the Horrible Realizations Since Trump's Big Win: 'How the Fu*k Did We Get Here?'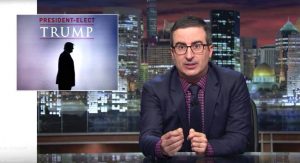 Despite his viral takedown earlier this year of the GOP nominee, Last Week Tonight host John Oliver was faced with the realization Sunday night that he must now put the phrase "President-elect" in front of the name Donald Trump.
America proved, according to the comedian, that "no grandpa is too racist," to become the world's most powerful man. Oliver uniquely devoted his entire show to examining the impending presidency and the implications of Trump — the man Oliver once famously mocked as Donald "Drumpf" to widespread appeal — getting to nominate as many as three Supreme Court Justices.
The realization of Donald Trump becoming President is not a sentence Oliver ever thought he would say, just like, "Vanilla Ice is picking up his Noble Prize in Physics," joked the comedian during his deep dive segment.
Oliver also balked at the oft-cited suggestion that Trump deserves "a chance," to prove us wrong now that he is going to be Commander in Chief. "He is a human 'What is wrong with this picture?'" Oliver continued about the President-elect, noting that Trump's candidacy and win are so abnormal they can't be treated like previous administrations.
The staffers of Last Week Tonight ended the broadcast — the final one of the year — with an epic f*ck off to the truly terrible year that was 2016. A montage of New Yorkers (famous or otherwise) flipping off the year all decry the deaths of treasured celebrities we lost this year, as well as the general shitty state of our world, before Oliver blows it all to hell with an epic bang.
Watch above via HBO.
—
[image via screengrab]
Have a tip we should know? tips@mediaite.com