Trump's New Economic Team Includes Six Steves and One Guy Named 'Barrack,' Zero Women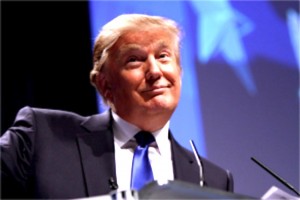 Republican presidential nominee Donald Trump's campaign rolled out their team of economic advisers on Friday, and while it would probably not surprise anyone to learn that the list contained the names of fifteen white males and zero others, Emily's List noticed something peculiar about this particular list of white dudes. In an email noting the lack of diversity among the list that was published by Politico, they noted that even for a list of just white guys, there was a peculiar sameness:
Names on the list, which the Trump campaign boasted as having "unparalleled experience and success in business" include Steve Roth, the founder and chairman of Vornado Realty Trust; oil and gas tycoon Harold Hamm; Vector Group President and CEO Howard Lorber; Steven Mnuchin, Trump's national finance director and chairman/CEO of Dune Capital; top fundraiser Tom Barrack, the founder and executive chairman at Colony Capital; Stephen M. Calk, chairman and CEO of The Federal Savings Bank; John Paulson, president and CEO of investment firm Paulson & Co.; Andy Beal, a banker, businessman and poker player; and Steve Feinberg, co-founder and CEO of Cerberus Capital Management.
Story Continued Below

Trump advisers David Malpass, Peter Navarro, Stephen Moore and Dan DiMicco are also on the list, led by Stephen Miller, the national policy director, and deputy policy director Dan Kowalski.
Emily's list pegged the number at five, but including the team leader (and why wouldn't you?), there are six guys out of fifteen who are named some variation of "Steve," and one guy named "Barrack" (don't worry, he's white). In case you're wondering, and I was, the name Steve has never even cracked the top 5 most popular names in the U.S., at least not since 1916. It's just a weirdly popular name for the white dudes on Donald Trump's economic team.
This is an opinion piece. The views expressed in this article are those of just the author.