Trump's Stunning NATO Claims Put People on Edge: 'They Literally Make World War III More Likely'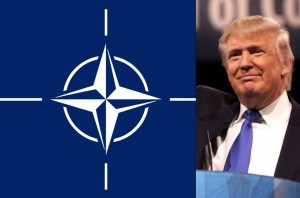 Amid the festivities in Cleveland, Ohio yesterday, the Republican party nominee for Commander in Chief sat down with David E. Sanger and Maggie Haberman of The New York Times, implying that he would not necessarily fulfill his military obligations to our NATO allies in times of need.
Donald Trump, who has preached the theme of "unpredictability" so frequently on the campaign trail that you could emblazon the word on $30 hats, said that he would first consider a NATO partner's contributions to the alliance before issuing aid. As soon as the news broke of Trump's comments, the campaign chief architect Paul Manafort added to his already headache-inducing week by telling David Corn that the Times "misquoted" Trump.
Manafort tells me NYT misquoted Trump on defending NATO allies and respecting existing agreements. Says it does this a lot. NYT, got a tape?

— David Corn (@DavidCornDC) July 21, 2016
Well, this morning the Times released the edited transcript of their conversation with the man himself that fully supports the previously reported take of Trump's commentary. The GOP nominee questioned whether or not he would automatically extend guarantees of security to all of the 28 partners in NATO, saying, "If they fulfill their obligations to us, the answer is yes."
Here is the transcript for one particularly telling exchange between Sanger and Trump regarding the possibility of providing help to the Baltic States in the event of Russian military encroachment (emphasis mine):
SANGER: I was just in the Baltic States. They are very concerned obviously about this new Russian activism, they are seeing submarines off their coasts, they are seeing airplanes they haven't seen since the Cold War coming, bombers doing test runs. If Russia came over the border into Estonia or Latvia, Lithuania, places that Americans don't think about all that often, would you come to their immediate military aid?

TRUMP: I don't want to tell you what I'd do because I don't want Putin to know what I'd do. I have a serious chance of becoming president and I'm not like Obama, that every time they send some troops into Iraq or anyplace else, he has a news conference to announce it.

SANGER: They are NATO members, and we are treaty-obligated ——

TRUMP: We have many NATO members that aren't paying their bills.

SANGER: That's true, but we are treaty-obligated under NATO, forget the bills part.

TRUMP: You can't forget the bills. They have an obligation to make payments. Many NATO nations are not making payments, are not making what they're supposed to make. That's a big thing. You can't say forget that.

SANGER: My point here is, Can the members of NATO, including the new members in the Baltics, count on the United States to come to their military aid if they were attacked by Russia? And count on us fulfilling our obligations ——

TRUMP: Have they fulfilled their obligations to us? If they fulfill their obligations to us, the answer is yes.
When Maggie Haberman followed up by asking what would happen if they didn't fulfill these obligations, Trump simply replied, "I'm saying, right now there are many countries that have not fulfilled their obligations to us."
In their original reporting on the interview, Sanger and Haberman wrote, "Mr. Trump conceded that his approach to dealing with the United States' allies and adversaries was radically different from the traditions of the Republican Party."
Many have taken to social media with their reactions to the stunning revelation that a man who could be our next President would be willing to overlook basic collective defense agreements with our international allies.
Given Trump's views on NATO, and on America's promises to allies, his election would trigger an immediate global crisis.

— Jeffrey Goldberg (@JeffreyGoldberg) July 21, 2016
We have had decades of bipartisan commitment to NATO, which has made it the greatest alliance in history. Trump is now threatening that.

— Michael McFaul (@McFaul) July 21, 2016
"Ronald Reagan would be ashamed," says Clinton's top foreign policy adviser. And he's right. https://t.co/zNXvbQALgW

— David Frum (@davidfrum) July 21, 2016
I have no idea how to convey the enormity of Trump's NATO comments to readers. They literally make World War III more likely.

— Zack Beauchamp (@zackbeauchamp) July 21, 2016
NATO Secretary General Jens Stoltenberg fired back, saying in a statement, "Solidarity among allies is a key value for NATO. This is good for European security and good for US security. We defend one another."
"The United States has always stood by its European Allies," Stoltenberg continued. "Now the US is stepping up its support once again, and increasing its presence."
Hot on the heels of his energetic speech last night in Cleveland defending his father, Eric Trump spoke with CBS this morning and further defended the controversial NATO claims.
"His message is the fact that every country that's part of NATO should pay their own way." @EricTrump on father & NATO @CBSThisMorning

— Norah O'Donnell (@NorahODonnell) July 21, 2016
—
J.D. Durkin (@jiveDurkey) is an editorial producer and columnist at Mediaite.
[images via Wikipedia Commons]
This is an opinion piece. The views expressed in this article are those of just the author.