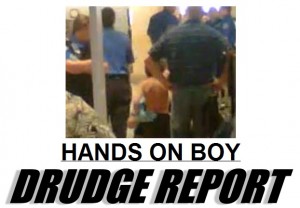 The parade of TSA horror stories continued this weekend, as a YouTube video featuring a young boy being patted down has gone viral, hitting the top spot on mega-aggregator The Drudge Report. In the cellphone clip, posted by college student Luke Tait, a shirtless young boy is being patted down by TSA agents, prompting Drudge to dub the video "Hands on Boy."
The TSA has responded to the clip on their blog, and offered some facts that differed from the account posted on Tait's YouTube account. After the jump, check out the video, and decide if TSA's explanation really helps at all.

According to Tait, here's what happened before the camera rolled:
Before the video started the boy went through a metal detector and didn't set it off but was selected for a pat down. The boy was shy so the TSA couldn't complete the full pat on the young boy. The father tried several times to just hold the boys arms out for the TSA agent but i guess it didn't end up being enough for the guy. I was about 30 ft away so i couldn't hear their conversation if there was any. The enraged father pulled his son shirt off and gave it to the TSA agent to search, thats when this video begins.
Here's the clip:
This morning, the TSA responded to the uproar on its blog:
On November 19, a family was traveling through a TSA checkpoint at the Salt Lake City International Airport (SLC). Their son alarmed the walk through metal detector and needed to undergo secondary screening. The boy's father removed his son's shirt in an effort to expedite the screening. After our TSO completed the screening, he helped the boy put his shirt back on. That's it. No complaints were filed and the father was standing by his son for the entire procedure.
Aside from some subjective descriptors, the only difference between the two accounts is the fact that the child set off the metal detector. TSA's account points out that "no complaints were filed," but that obviously doesn't mean no one complained. Whether the father was "enraged" or not, though, TSA is correct in pointing out that they did not ask for the boy's shirt to be removed, and no TSA agent should.
The TSA controversy, which began with another viral video "outrage," promises to dominate the news for some time to come, as disturbing visuals like this emerge during Thanksgiving week, the busiest travel week of the year. Exit question: if the TSA succumbs to public pressure and relaxes these procedures, how will that same public react if a threat does get through?
Have a tip we should know? tips@mediaite.com