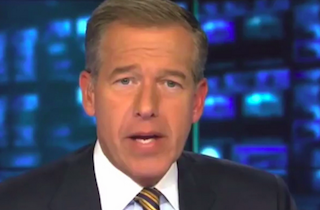 There is a new documentary about lying which features an appearance by NBC Nightly News anchor Brian Williams. The irony is, that appearance has nothing to do with Williams' current predicament.
Dan Ariely, the author of The Honest Truth About Dishonesty: How We Lie to Everyone–Especially Ourselves
along with director Yael Melamede and SALTY Features is about to release a documentary titled (Dis)Honesty – The Truth About Lies, which tries to get to the bottom of why people lie.
One of the stories they examine is that of Marilee Jones, the dean of admissions at MIT who admitted she made up false academic degrees on her résumé when she first applied to the school.
"I misrepresented my academic degrees when I first applied to M.I.T. 28 years ago and did not have the courage to correct my résumé when I applied for my current job or at any time since," Jones said in a statement back in 2007.
When the documentary presents Jones' story, it uses footage of Brian Williams reporting on it for NBC News. Mediaite has learned that Williams can be heard saying:
"Marilee Jones resigned today as dean of admissions at MIT after 28 years at that prestigious school. In a statement today, she said, quote, 'I am deeply sorry for this, and for disappointing so many in the MIT community and beyond.""
"We finished the movie two days before this broke, and we couldn't decide if we should add something to the movie, or just enjoy the irony," Ariely told the Washington Post in an interview.
He also defended Williams on the basis that he may have actually been exaggerating his Iraq war helicopter story in an effort to thank "our brave military men and women," as he initially said in his apology.
"Look, the guy doesn't need to grandiose himself. His career is going incredibly well. I think the way he was trying to do it was to basically use himself to make this story more interesting, more powerful," Ariely said. But he doesn't think Williams should highlight that point in any further apology. "What I do think would help is just asking for forgiveness," he said. "We've all had mistakes. It would certainly color him to some degree, but the right approach is just to admit the mistake and move on."
Watch a trailer for the film below, via YouTube:
[Photo via screengrab]
— —
>> Follow Matt Wilstein (@TheMattWilstein) on Twitter
Have a tip we should know? [email protected]