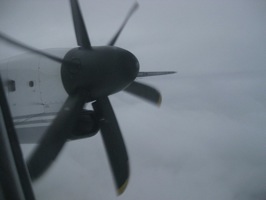 Greetings world, and welcome to the second installment of "Tweets On A Plane," whereby I amuse myself on board a flying chunk of metal in the sky by perusing your wit and wisdom in 140 characters via a pre-loaded Tweetdeck. I'm flying Porter Airlines, which rules — free wine, people, and do you think I'm indulging? Well what else goes with my free almonds, Terra chips and cookie? — and I am not lamenting the lack of on-board wifi one bit. Seriously, do I need to be wired all the time? Of course not — that's why I pre-loaded a few pages to work from while in the air. Yeah, I'll smell those roses. Anyway! I think we should take a moment to appreciate how awesome it is that human beings figured out a way to get a bunch of people and their luggage from one place to another through the air. That's seriously crazy. Looking out the window right now at the bright blue sky and clouds glowing in the reflected rays of the sun, I don't take that for granted.
Right! Now back to your tweets. Here are the best of 'em, with my commentary, because that will OBVIOUSLY make them even better. Twitter has taught me something. Onward!
@Digidave: Blog post: Good, Fast and Cheap: Startups Can Only Pick two http://bit.ly/3XlxdC
— I will leave it up to Bossman Dan to pick his favorite two. :)
@taraennis: yes, you're being marginalized. RT @mediaite: Hillary Clinton On Whether Obama 'Deserves' His Nobel Win http://www.mediaite.com/rllcw
— Oh, snap! @WhiteHouse, are you listening? We'll see if you tweet out something Hillary-related, then we'll decide
RT @thejoelstein: Outside of NYC, no one cares about Columbus Day. I blame lack of Italians, parades and car/mattress sale tie-ins.
— In Canada they call it "Canadian Thanksgiving." And a happy one to all, Italians and non-Italians alike!
@felixsalmon: Ah, fail whale. You're back, in glorious technicolor! How I didn't miss you.
— I see your Twitter Fail and raise you a Gmail Fail
@bloggingheads: Is Russia doing its part to mend its relationship with the US? video: http://bit.ly/14cLaJ
— Why do I think the answer is nyet?
@cheeky_geeky: The secret to having a great Twitter stream is aggregation + filtering + attitude. http://post.ly/8Dp9
— Um, and good content? You can have all of the above and without having useful stuff to share, you're nuttin'.
@popcandy: NBC is being sued — for unauthorized font usage! http://bit.ly/agcH5
— Did they tell NBC to get the font out of here? Haaa. Or maybe to go to Hel-vetica? I'm here all week.
@romenesko: NYT metro desk cancels magazine, newspaper subscriptions. Says money better spent on freelancers. http://is.gd/4fOi3
— I'd point out the various ironies in here, but it's just too depressing.
@Newsweek: "I found myself looking like an overly sexualized Smurf" — Confessions of a male hair model. http://bit.ly/3L24AE
— Your move, Time, your move.
@Newsweek: Leaf Us Alone: A New Englander who hates autumn leaves. http://bit.ly/2ZUJzf
— Haa, two-fer from Newsweek, but that pun is awesome.
@AriMelber: Who knew? "Common dream of N. Americans: being chased/attacked. Common among S. Americans: able to breathe underwater or fly." (Hunch.com)
— Common dream of bloggers: Huge news breaking and computer/wifi goes down. And/or posting dreams. I have those. Anyone?
@lizzwinstead: Reading a personal essay about my teens at event honoring Judy Blume. Hope I can't see her eyerolling. #thingslessworthythanobamanobelprize
— WE MUST, WE MUST, WE MUST INCREASE OUR BUST! Are you there, God? It's me, 36-year old Judy Blume fan.
@lisahanockjasie: Did you ever wonder what the word "the" means?
— No, but I'm sure Bill Clinton could tell you.
@pbump: Bullets filmed with high-speed camera. For holiday-appropriate symbolism, imagine the bullets are European diseases. http://pbump.net/?7eg
— Er, happy holidays to you too?
@romeneskoblogs: (Obscure Store) Man misses birth of his child after groping nurse at hospital. http://is.gd/4fNlz
— Really, Man? Really?
@anamariecox: Is there an IkeaFail blog? Of badly put together Ikea items? Because I may need to start one.
— Brillz idea. Bra, mycket bra! (That's Swedish.)
@diablocody: If my children ever have their own reality show, I plan to get topless in the first episode.
— Why wait? Oh, nevermind.
p.s If anyone is interested in what kind of plane I was on, it was a Bombardier Q400 Turbo-prop. Pic/stats below (enlarged version here) and dorky video of the propeller below that. Can anyone tell me why you can see the propeller blades moving in the video, but it's a blur to my naked eye?
Have a tip we should know? tips@mediaite.com