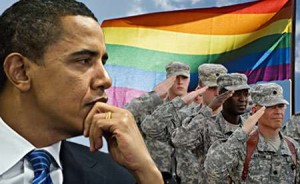 I got an excited call from a friend Saturday night telling me that Twitter was abuzz about President Obama's speech at the Human Rights Campaign dinner.  The gist of the call was that the President says he will end Don't ask/Don't tell.  I was kicking myself for not having written about the rumors I had heard through the gravepine saying that very thing.  The implication was that an Executive Order, or some other extra-legislative move, was in the offing.
Then, I actually watched the speech.
We cannot afford to cut from our ranks people with the critical skills we need to fight any more than we can afford — for our military's integrity — to force those willing to do so into careers encumbered and compromised by having to live a lie. So I'm working with the Pentagon, its leadership, and the members of the House and Senate on ending this policy. Legislation has been introduced in the House to make this happen. I will end Don't Ask, Don't Tell. That's my commitment to you.
Can anyone tell me the difference between that, and the answer Robert Gibbs gave me the first time I asked him about repealing DADT, back on May 15?
Since then, we've asked the question upmteen different ways, trying to drill down on the specifics of the White House's promise on Don't ask/Don't tell, and gotten the same response every time.  You would think, then, that this speech would portend some kind of progress on the legislative front.  You'd be wrong.
Back in May, I spoke with the office of the chair of the House subcommittee that currently has the bill repealing DADT, HR 1283:
I contacted the subcommittee's chair, Rep. Susan Davis (D-Ca), and her spokesman, Aaron Hunter, gave me some rather deflating news.

He said that the committee plans to schedule hearings on the bill. Later this year.

I was flabbergasted. "You mean, the hearings on this bill could literally begin anytime up to December?"

"Yes."
He also told me, then, that while support was building for the measure, they didn't even have the votes to get it out of committee.
I spoke to Aaron Hunter again this morning to see if anything had changed with HR 1283.  "Nothing has changed, we still plan to begin hearings before the end of the year."
I asked if there was anything more specific, tentative ballparky dates, anything different at all? "No."
Now, it is true that the Senate has made noise about holding hearings, but they don't even have a bill yet.  The House Subcommittee on Military Personnel has had HR 1283 since March.
So, what gives?  Why roll this out now?  A cynic might see this as a naked play to the liberal base, who have been unhappy with the President for a variety of reasons.
I don't see it that way.  He was giving a speech to a gay rights group, so he had to bring it up.  I'm not sure he expected it to be such big news, since nothing has changed.
Now that the press has seized on this, though, it could end up hurting the legislative prospects for a repeal of DADT.  Until now, the President has managed to avoid making himself a lightning rod on gay issues, while the right gradually eased into more moderate positions on them.  Now that the President has weighed in so forcefully on this, has he painted a bullseye on the DADT repeal?
If that happens, will the President move toward a change in enforcement, or some other executive action?  So far, the White House hasn't shown any signs that they'll go it alone on DADT.
Have a tip we should know? [email protected]