Twitter Blasts YouTube Star Logan Paul After He Uploaded Video of Body From an Apparent Suicide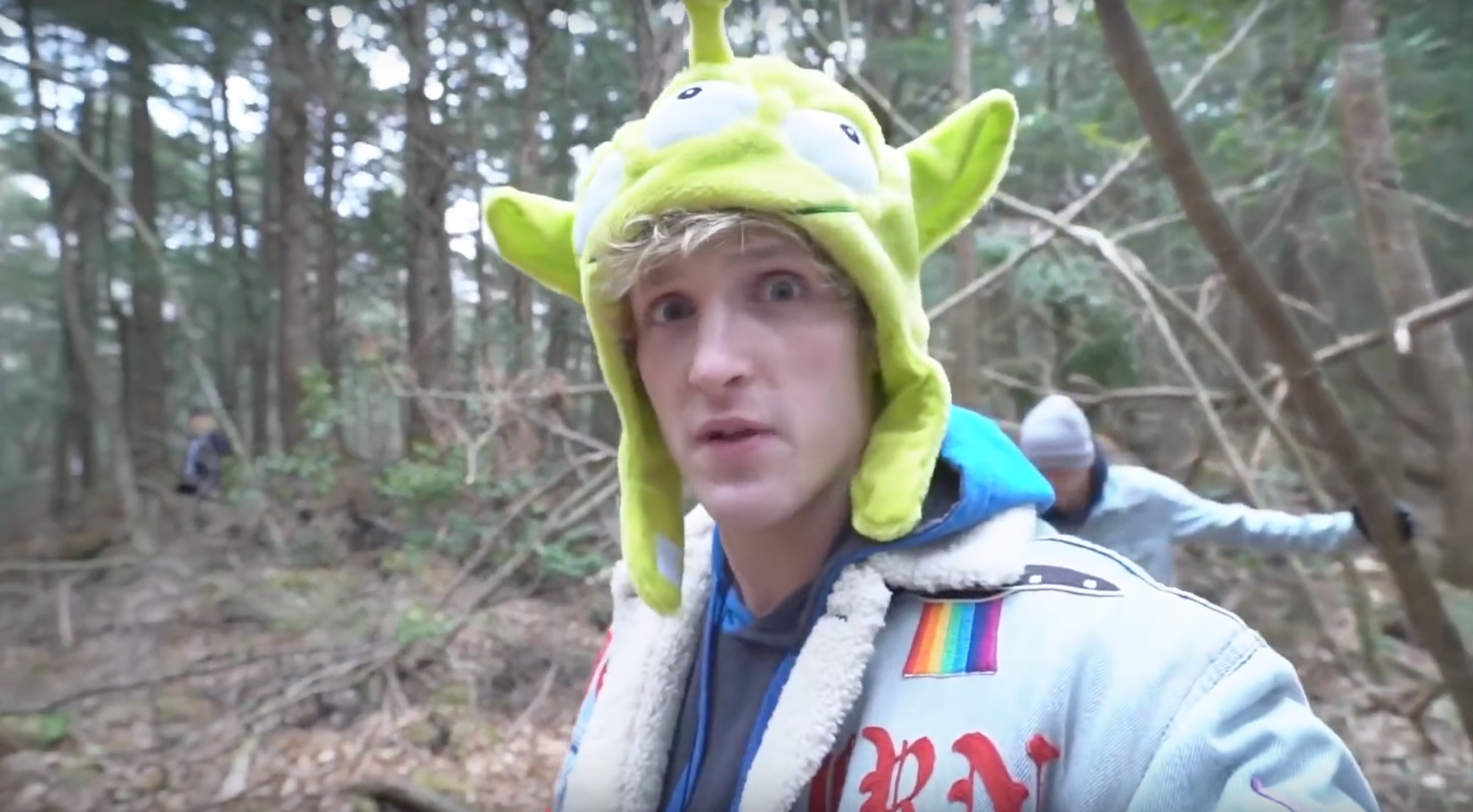 Internet personality Logan Paul is facing heavy backlash for a video he uploaded on his YouTube page over the weekend.
During his trip to Japan, he recorded a hike in the infamous "Suicide Forest," an area near Mount Fuji that has a years-long reputation where people commit suicide. And while Paul and his posse were wandering through the forest, they discovered a body of a man who apparently hanged himself from a tree.
The roughly 15-minute long video captured their reaction as well as the aftermath after the police arrive, but throughout the ordeal, Paul was shown laughing and joking. (The video has since been deleted, but you can watch excerpts of it here.)
Paul has over 15 million Youtube subscribers.
On Monday night, Paul issued this apology on Twitter.
Dear Internet, pic.twitter.com/42OCDBhiWg

— Logan Paul (@LoganPaul) January 2, 2018
"This is a first for me. I've never faced criticism like this before, because I've never made a mistake like this before," Paul stated. "I'm surrounded by good people and believe I make good decisions, but I'm still a human being. I can be wrong."
And based on the reactions from Twitter, it appears Paul's apology only made matters worse.
Dear @LoganPaul,

How dare you! You disgust me. I can't believe that so many young people look up to you. So sad. Hopefully this latest video woke them up. You are pure trash. Plain and simple. Suicide is not a joke. Go rot in hell.

Ap

— Aaron Paul (@aaronpaul_8) January 2, 2018
@LoganPaul You're an idiot. You're not raising awareness. You're mocking. I can't believe how self-praising your "apology" is. You don't deserve the success (views) you have. I pray to God you never have to experience anything like that man did.

— Sophie Turner (@SophieT) January 2, 2018
Excuse me, what the HELL did Logan Paul just do? Are you kidding me????????????????????

— Calvin (@calvinstowell) January 2, 2018
Is Logan Paul a real person or is he a metaphor for the end of American culture?

— Bess Kalb (@bessbell) January 2, 2018
Just remember this. Before all the extended community outrage against Logan Paul's "we found a dead body" video, there was a seemingly uncontested 550-600,000 likes on it.

His core audience doesn't give a fuuuuuuck. Unless youtube does something, this doesn't hurt him.

— Philip DeFranco (@PhillyD) January 2, 2018
i'm truly sickened by this logan paul situation. i lost my brother to suicide… my brother took his own life by hanging himself… how insensitive and sick can you be to film someone in that state ?

— mommy (@CorinnaKopf) January 2, 2018
logan paul gotta go ??

— Andrea Russett (@AndreaRussett) January 2, 2018
To any of the millions who were unfortunate to see Logan Paul's video.

National Suicide Prevention Lifeline:

Call 1-800-273-8255 pic.twitter.com/OaEvaHRTXz

— Em Harriss (@EmHarriss) January 2, 2018
did someone forget to tell logan paul that raising awareness for something isn't just showing people the thing. it's like if i wanted to raise awareness for global warming by sitting and watching some ice melt for a week

— Bertie Gilbert (@bertieglbrt) January 2, 2018
ugh today was literally the WORST DAY to get my logan paul tattoo

— eric turtle (@dubstep4dads) January 2, 2018
Fuck Logan Paul

— J.Carr (@INPJCarr) January 2, 2018
Logan Paul has always been a total dickarse don't know what people ever saw in him and why people are surprised by what he's done. He's revolting and what he did was unforgivable. Also his "apology"what a joke hahahahaha. Hope I'm fortunate enough to never meet him.

— Caito Potatoe (@Caito_Potatoe) January 2, 2018
Hey parents, if you have a child of 8-12 with their own computer/phone chances are they watch Logan Paul and have seen that video. Might be a good chance to sit them down and unpack what they just saw. Also, explain what makes him such an asshole.

— Paul Bae (@MrPaulBae) January 2, 2018
I'm not suggesting the whole video be posted on Twitter but people need to realize he didn't just laugh after seeing a dead body, he extensively featured this poor soul's body in the video. Barely blurring him. What is this person's family supposed to think? My god. https://t.co/vgahgmu1To

— Yashar Ali ? (@yashar) January 2, 2018
Logan Paul needs to get it together ??????????✌?

— Teala Dunn (@TTLYTEALA) January 2, 2018
I didn't like Logan Paul before it was cool

— Gizzy (@gizzy14gazza) January 2, 2018
[image via screengrab]
Have a tip we should know? tips@mediaite.com